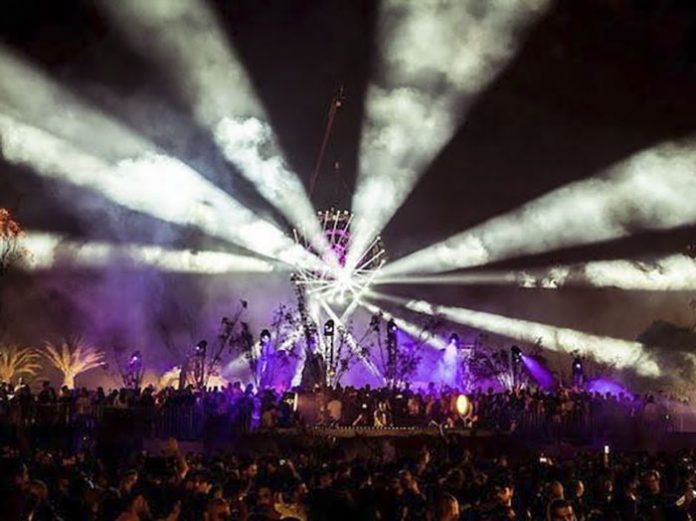 When Cochavi & Klein was engaged by The Tripping production group to create spectacularly different lighting for a special sunset party in the Gan Haslaim (Rock Garden) of Tel Aviv's famous Yarkon Park, it came up with the concept of a giant 'Electronic Sun' positioned 20m high in the air behind the elevated DJ and VIP areas.
Based around a 3-ring circular truss, this huge 8m diameter backlight structure carried 48 of Robe's 19-segment Spiider LED fixtures together with 24 Pointe fixtures, and two dozen 4-light molefays. The entire structure was suspended at a pre-tilted angle from a 66m mobile crane.
The party started at noon, taking thousands party lovers on a journey through the sunset and into the night. The DJ booth was located in front of the rocky hill, with a beautiful back scenery full of ancient stones. At 8pm when the sun went down completely, the Electronic Sun then rose behind the hill.
The Spiiders were run in their 122-channel extended mode, enabling pixel mapping through an MA VPU media server as well as the creation of complex and subtle effects and patterns. This was combined with output from eight fog machines resulting in dynamic, varied and visually exciting lighting and effects.
Lighting was controlled using an MA Lighting grandMA2 system and was programmed by Omer Israeli, associate LD and Programmer at Cochavi & Klein. Additional project credits include Dor Aichner, Lighting Crew Chief and Itay Harpaz, Stage Manager. Itamar Bar Shavit was the technical producer of the event. Lighting and audio equipment was supplied by Argaman Systems, one of Israel's leading rental companies. Structures and trussing came from Stage Design, lasers from Saar Lasers and the crane was provided by Dror Cranes.
For the passionate team at Cochavi & Klein such a project is just not possible without the assistance of wysiwyg lighting design and previsualisation software.
In the words of associate lighting designer and programmer Omer Israeli: "Beginning with the first sketches and lighting plots, through the 3D renders and pre-programming of the show, wysiwyg let us bring our design to life."
Eran Klein, LD and Co-owner of Cochavi & Klein, added: "With wysiwyg we could give the customer the opportunity to see with their own eyes what exactly was running through our imaginations. We have inspected and learned through wysiwyg to look at different point of views and angles that helped us to determine what would be the optimal angle and height for the Electronic Sun stage element."
wysiwyg also saved the client money in crane hours due to pre-programming, and enabled the elimination of potential any windy weather problems.
"We truly believe that CAST and wysiwyg played a very important part in the process that let this project come true," added Klein.