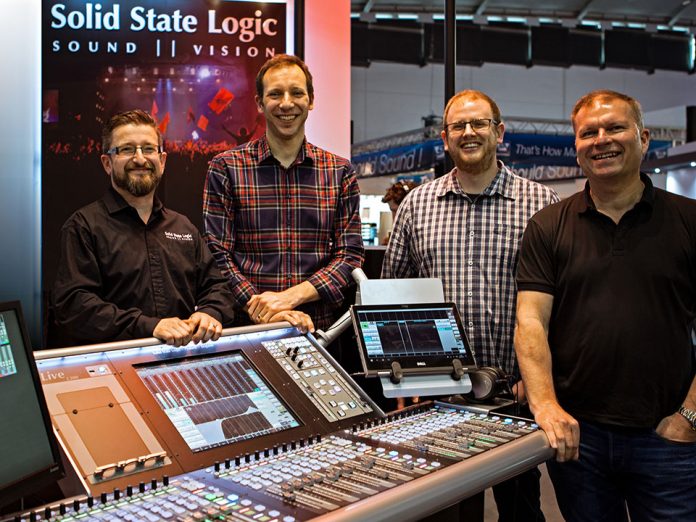 Capital Sound, one of the largest UK-based live sound hire companies, is adding Solid State Logic L200 and L500 live consoles to its inventory, bringing SSL quality and flexibility to a growing client-base over a wide budget range. The consoles are being been supplied by UK professional audio specialist HD Pro Audio.
Capital Sound initially decided to invest in L500 to support The Killers Front of House Engineer, Kenny Kaiser, on the European leg of the band's current worldwide tour. Kaiser uses a lot of the console's unique attributes, such as fully processed stem groups, the SSL FX Rack, AutoMix (multiple lead vocal mics), and the tube effect that is included in every processed path.
"We've had our eye on the SSL consoles for a long time, but felt that we needed a lower price point for a large section of our client base," said Paul Timmins, General Manager at Capital Sound. "The L200 is right where we need it to be. This is now a family of surfaces that suit all of our requirements – from large tours like The Killers to many other clients that we'd like to introduce to SSL Live."
How and when Capital Sound invests in new equipment very much depends on the size of that investment, and the specific need. Timmins: "With high-end consoles we generally buy them for specific projects, providing the project has a reasonable duration, and that forms a solid foundation for the future. With smaller consoles, we look at what they can offer the company and how they fit into the bigger picture. We see the L200 as being an important part of our inventory of mid-priced consoles into the future."
Robin Conway is the Project Manager at Capital Sound, and feels that the new L200 has a ready-made audience: "It's the right price, it's the right rental cost, it has the great SSL heritage, and it doesn't feel like a smaller console… It feels as big as its big brothers. It has the right number of faders; the screen is high quality… Everything about it screams quality, and yet it's in a price point that's now affordable for at least 60% of our client base.
"People have very specific ideas and loyalties when it comes to consoles and have always fallen back onto reliable and trusted brands. The L200 may well fulfil that role."
HD Pro Audio's Andy Huffer is confident that the SSL L200 will have a big impact on the touring market – exposing more Engineers to the sound, flexibility, and power of SSL Live: "For four years now we've been trying to cover the market with the L500 – a real top-end console that requires a big project to make it a good value proposition. Now we think the introduction of the L200 will accelerate SSL's popularity in touring – it will create that required group experience of how an SSL console works, how good it sounds, and so on. That will then drive demand for the more powerful consoles, as they are needed.
"Not every engineer starts his career on an arena tour with the most expensive kit. While the L200 certainly isn't in the low end or cheap end of the market, it's definitely a more accessible first step."
Capital Sound has been in business for over 30 years, serving European and international live music at festivals and all scales of tour sound. "Capital sound is a respected brand," said Timmins. "We only do sound rental – we do what we know best.
"We offer a friendly, personal service. Everything we do is bespoke-designed so ultimately we like to think that the customer is getting exceptional value for money – both in design services and the kit we're supplying."