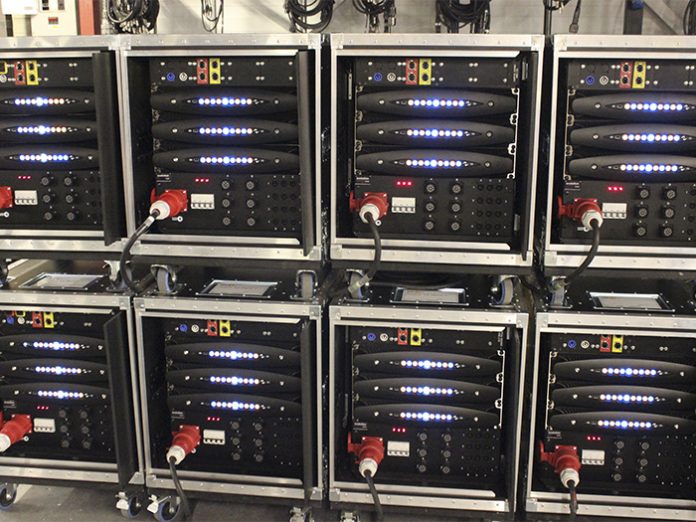 London-based event company Capital Sound has made its first investment in Powersoft's patented advanced technology, investing in 24 of the new X8 amplifiers to power its new Outline GTO line array system.
The Italian company's game-changing X Series took the touring market by storm following its world launch in Frankfurt two years ago. Offering eight 5200W/2-ohm channels in a 2U chassis, the X8 offers unmatched levels of versatility, flexibility, power and functionality without compromising on size and efficiency.
Both the Outline GTO C-12 line array and the Powersoft amplifiers were supplied by UK distributors CUK Audio, while this compelling combination also reflects the long OEM trading relationship the two Italian manufacturers have enjoyed, dating back to 1996.
Capital Sound's Project Manager, Robin Conway commented: "We have friends in the industry who have long promoted Powersoft and when we set up a demo at O2, and CUK Audio showed us the X Series, it became a no-brainer. These new amplifiers are just so powerful, compact and clever, with a ridiculous amount of features.
"At O2 we were able to drive the majority of the demo rig off just three amplifiers," he continued. "We have 192 channels of X8 amplification, and as our biggest PA rig will only comprise 104 amplifier channels there is flexibility to extend the Outline rig at a later stage. And since we have recently implemented a Dante returns system, having the Dante integration is brilliant as it will fall seamlessly into the new infrastructure, with our Lake LM44 processors and Cisco SG300 10-port switches.
"There will be little in the way of XLR connections now in the signal flow — it will all be done with Dante and Data."
Rich Soper, CUK Audio's Brand Manager (Live Sound), takes up the story. "Outline has traditionally used Powersoft K Series [in its products] but this is the evolution of that series. Not only was it much more cost-effective for Capital Sound to go with X Series but it has a more advanced DSP platform, based on a tried and tested base, and they will be saving on rack space as well.
"As for the Dante implementation this is really nice, because Powersoft's new Armonía v2.7.0 software allows you to stream eight processed or unprocessed Dante signals out of the amps — pre or post DSP."
The new amplifiers will be housed in eight specially configured amp racks, containing three X8's, with custom 4U power distro and speaker patch, with the flight cases designed for maximum efficiency.
The sale will be fully supported by CUK Audio and Rich Soper will be arranging full technical training, both internally and externally, for Capital personnel and their freelance sound engineers.
"Rich has been really hands on from the beginning," says Robin Conway in summary. "We have experienced the complexity of Powersoft integration in our other line array (Martin Audio MLA) and that reliability, coupled with Outline's recommendation, gave us all the assurance we needed.
"After the demo it was clear this would be our first purchase of Powersoft — and this is a really exciting prospect."
http://www.powersoft-audio.com/en/