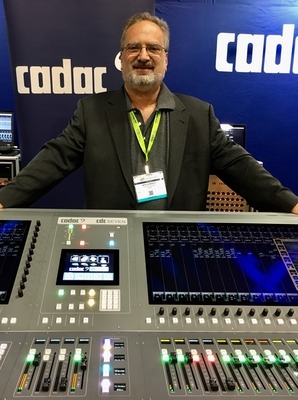 Following his appointment in early 2017, Cadac USA Director of Operations Ron Lorman steered the British live mixing console and audio networking company into LDI, following October's appearances at WFX and the AES.
Cadac exhibited the indoor audio pavilion focussing on professional audio equipment and solutions at LDI Amplify. The company promoted its CDC consoles and MegaCOMMS network platform, a dedicated live audio network.
"The Cadac CDC audio system offers an industry leading mixing and networking solution, dedicated to the highest audio quality and performance requirements of live sound production; with significantly lower signal latency and discernably higher audio quality than competing solutions," said Lorman. "CDC MegaCOMMS is a dedicated live production network solution that ensures the superlative audio performance of CDC six and CDC seven series mixing consoles across a complete network."
CDC 6 and CDC 7 mixing consoles combine 23.5-inch high contrast HD touch screen-based control surfaces and CDC OS to provide Cadac's swipeable graphical operator experience. The consoles run Cadac's proprietary MegaCOMMS protocol. With the 12 port MegaCOMMS Router it extends to a high performance, audio networking platform, which can be software managed to provide up to 3072 channels of audio routing, comprising 12 streams of 128 channel, bi-directional audio at 96kHz / 24-bit, including automatic gain compensation when sharing stage racks, whilst adding only a single sample of latency.
Industry leading total through-system propagation delay, from on-stage inputs to outputs, including all console processing, A-D / D-A conversions and three stage internal latency management, is just 37 samples (@ 96 kHz) – under 400μs. MegaCOMMS synchronises all audio samples before summing, resulting in absolute phase coherency at all outputs.
MegaCOMMS features a range of I/O, interface and bridging components, to enable direct connectivity with other networks and the wider AV world, including CDC I/O 6448, CDC I/O 3216 analogue and CDC MC AES3 digital stage boxes, and the CDC MC Optical Bridge, CDC MC MADI Bridge and CDC MC Dante Bridge.