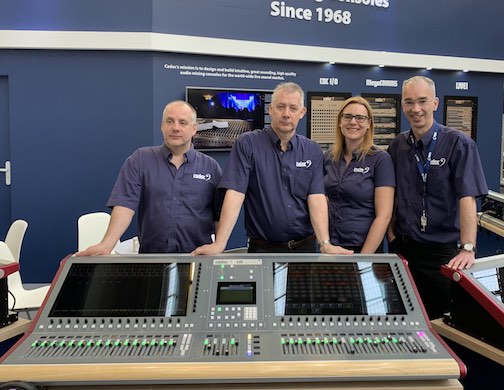 Cadac's CDC series mixing consoles are widely recognised as providing the highest levels of sonic performance, audibly superior to any other currently available analogue or digital mixing console. The company is showing a number of new developments at Prolight+Sound, including a console 'sidecar', and console mirroring and bus VCA features in a preview of v6.0 CDC OS. The company's booth features the full current range of CDC consoles, running on its MegaCOMMS dedicated music production audio network, which supports up to 3072 channels of the same ultra-high quality, fully time-aligned, phase-coherent, high-resolution audio, over distances of up to 2 kilometres.
A total of five networked consoles are live on the booth; two of the latest CDC five compact format consoles, two CDC six 80 input medium format consoles and a single CDC seven-s, the 128 input, dual-touchscreen series flagship. CDC series consoles provide unparalleled operational simplicity, with a combination of 23.5-inch high contrast HD touchscreen-based control and a highly evolved, high agility OS. The swipeable graphical operator experience – akin to the glass cockpit paradigm in aviation – presents a less challenging, rapid learning curve. The MegaCOMMS digital audio protocol 'powers' the CDC series consoles, CDC MC I/O stage boxes and the MegaCOMMS audio network.
It boasts an astonishing and unrivalled latency performance of just 37 samples (@ 96 kHz), or under 400us – total through-system propagation delay, including all console processing and A-D/D-A conversions. Combined with the synchronisation of all audio samples before summing, for absolute phase coherency at every output, the result is an incomparable level of sonic performance. The new CDC five is designed for smaller auditorium fixed installations, as well as corporate and smaller touring applications, with a power-to-form factor ratio, and levels of sonic performance and operational simplicity exceptional in a compact professional mix console. Running 96k/24-bit audio, the CDC five provides up to 48 inputs and 24 assignable busses, plus LCR and monitors in FoH mode; or 30 assignable busses when operating in Monitor Mode.
It features a single 23.5-inch touchscreen with 28 encoders and 16 faders, plus dual banks of user assignable buttons. The rear panel boasts 16 analogue inputs, eight analogue outputs and eight digital I/Os, as well as an integrated 64 x 64 Waves card. Cadac Marketing Manager James Godbehear said, "CDC five is designed to appeal to a much wider customer base – the sub £10,000 console market. With all of the features, performance capabilities and familiar form factor of the CDC six and CDC seven-s – plus a number of design enhancements – it will appeal to multi-purpose entertainment production and the house of worship applications; as well as to the touring, installation and event markets."