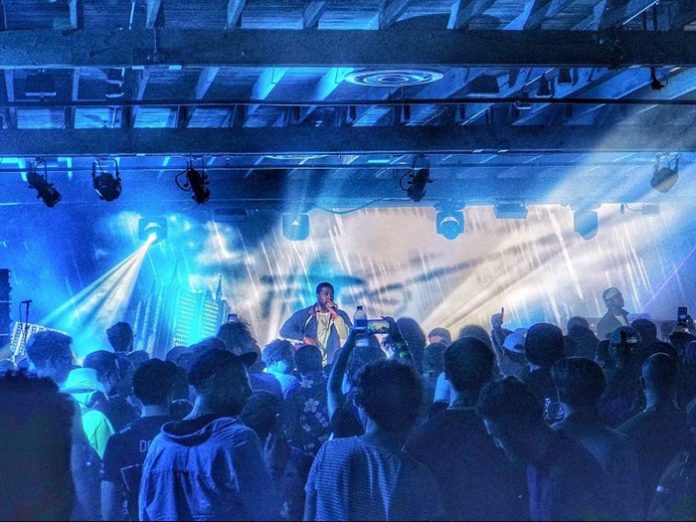 When Bud Light decided to throw a party at South by Southwest Music Festival (SXSW), it went all out with a full-blown production. Working with Mosaic and LiveNation, Bandit Lites provided the lighting package for both the Brazos Event Center and the rousing upstairs party, where musical performances throughout the weekend included Bleachers, A$AP Ferg, Yo Gotti, The Struts, MisterWives, Santigold, and Bloc Party.
With the party taking place in an event centre with a low trim height, the crew was tasked with coming up with a design that made up for the tight space and limited mounting options. "Dizzy Gosnell and Project Manager Matt King came up with a great way to mount the fixtures to the existing house beams with limited impact on the overall aesthetics of the room," explained Bandit's Director of Special Operations Roth Edwards. Bandit lighting director Aaron Swetland used almost an entire LED rig, with an exception for Clay Paky Sharpys, using GLP Spot Ones for key lighting, GLP X4S for audience movement, and Nitro 510c fixtures for audience wash, backlighting and lighting the outside of the building to Bud Light Blue.
"The Nitros were the most helpful light in the rig given the low trim height situation and the fact we were really trying to paint the people blue," said Swetland. "We wanted the room to be very much alive. The Nitros did that very well as it indiscriminately throws light everywhere. We used it downstairs on all the towers, and we used them outside to transform the corner of Brazos and East 4th Street into the Bud Light factory. The whole intersection was blue!"
In addition to the Bandit supplied gear, Barco donated the use of High End Systems Shapeshifters, which uses seven independently controlled modules within one moving fixture to give lighting designers the option to use it as an intense wash or a vibrant beam. "Bobby Hale and the crew at Barco went above and beyond for the client on this job," said Edwards. "The Shapeshifters provided by them helped to both set a casual and relaxed theme one moment and an all-out EDM theme the next. A special thanks to all of them from myself and all of us here at Bandit."
Live Nation Production Manager and Design Consultant Matt Shein contributed to the success of the event, as did Mosaic Project Manager Luke Fiddes and Bandit Crew Chief Jon Houle.