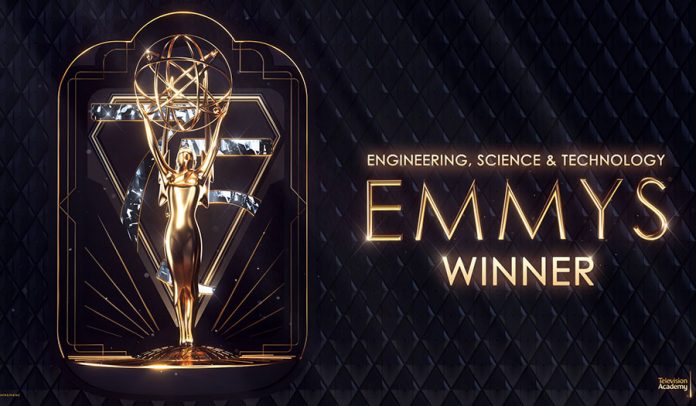 Brompton Technology has been recognised by the Television Academy with an Emmy Award for Outstanding Achievement in Engineering, Science & Technology. The Emmy was awarded for its Tessera SX40 LED video processor, which has played a role in the widespread adoption of LED screens for virtual production.
The Television Academy named Brompton Technology's founders Richard Mead (CEO) and Chris Deighton (CTO), alongside Director of Engineering Adrian Jeakins and Engineering Manager Evangelos Apostolopoulos, as the core team responsible for the Tessera SX40.
Since its debut in 2018, the SX40 has been used across many of the most popular and technologically advanced television series in recent years, including: The Mandalorian, House of the Dragon, The Book of Boba Fett, Westworld, Foundation, Our Flag Means Death, and Star Trek: Strange New Worlds, among others.
"The entire Brompton team is incredibly thrilled and humbled to receive such a prestigious award from our industry peers, and for the recognition of the vital role that LED processing plays for in-camera visual effects," commented Mead. "It is a demanding medium that aims to recreate reality within a studio, and that is exactly the kind of challenge that Brompton Technology has always sought to meet. Our mission is to deliver the best possible image quality, breadth of functionality, usability, and reliability in every product we build."
With a reputation in LED processing for live events and concert touring, Brompton brought its experience to support the pioneers of in-camera visual effects. The LED processor's role is to reproduce the creative team's intended visual content on the LED panels, to be captured in-camera, without any visual artifacts that would destroy the illusion of realism. Brompton's colour accuracy and deep understanding of how LED panels and cameras interact, were the foundation for an ever-expanding toolset that has helped establish in-camera visual effects as a mainstream filmmaking technique.
Emmy Award-winning Lighting Designer and Virtual Production specialist Peter Canning noted that in television and film, "it is all about getting the LED screen as close to reality as possible, which is where the Tessera SX40 is perfect. It is the one part of our pipeline which has never let us down."
Since the Tessera SX40's launch, the Brompton team has continued to develop a variety of improvements, available via free software upgrades, keeping ahead of the curve as the industry's gold standard for colour accuracy and on-camera visual performance. Some of the company's key Tessera software features include ShutterSync, which allows the refresh of the LED screen to be tuned to the preferred camera settings; Extended Bit Depth, which improves the dynamic range and low brightness performance of LED panels; and 3D LUT import, for advanced colour control and grading. Together these continued advancements ensure flexibility and collaboration for the creative team, enabling them to focus on the storytelling rather than the technology.
The 75th annual Engineering, Science & Technology Emmy Awards will be presented on 18 October 2023.