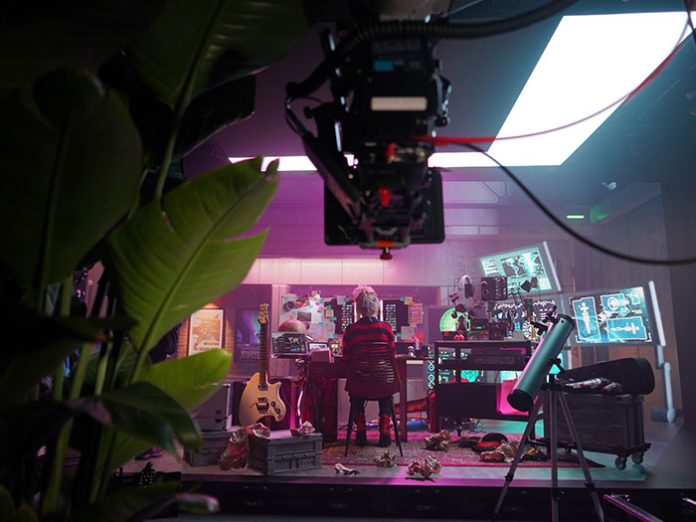 Votion Studios has launched a new, virtual production studio that centres around an AOTO LED display powered by LED video processing from Brompton Technology.
As one of Hong Kong's foremost XR and VP studios, Votion combines a strategic fusion of technologies and collaborative alliances to provide content creators with a solution that spans the entire production cycle.
The studio's expertise extends beyond production, and also encompasses the pivotal pre-production stage. The facility offers support to its clients, functioning as a creative hub for the development of XR and VP productions.
In February 2022, Votion reinvested in its LED volume during the year, replacing the original LED configuration with AOTO LED panels and Brompton's Tessera LED processors.
At the heart of the studio are three AOTO LED displays: an RM 2.3mm curved LED wall, measuring 10m by 3.5m; an 8.5 by 5m AE 2.3mm LED floor; along with an M3.7mm height-adjustable LED ceiling, which spans an impressive 4m by 3m. The entire setup is driven by five Brompton Technology Tessera SX40 LED processors, complemented by four Tessera XD 10G data distribution units to deliver a unified data distribution solution.
"Adopting Brompton LED processing marked a pivotal moment in our commitment to provide cutting-edge, innovative visuals throughout our projects," commented Roger Proeis, Co-Founder at Votion Studios. "The inclusion of full 4K support and remarkable LED video processing, encompassing HDR, Dynamic Calibration, and HFR+, ensures consistently stunning, accurate visuals. Teamed with Tessera XD distribution units, this configuration provides a cost-effective solution and the highest quality resolution for our ambitious LED initiatives."
Combining its LED set up with a disguise vx 4 media server and three rxII render systems, Votion Studios integrates all aspects of the production set into the media server, from backgrounds to XR elements enhanced by ARRI lighting and RED cameras. Everything is unified and can be programmed in advance. Emphasising the studio's ethos, Proeis asserted: "The cornerstone of our approach remains the creative concept. Our aim is to elevate these concepts to new heights using industry-leading technologies like AOTO and Brompton."
Votion Studios has been privileged to contribute to numerous projects in Hong Kong's dynamic entertainment and creative industry. A recent collaboration involved an inventive music video showcasing Sing Sing Rabbit, an artist and singer-songwriter, and Hong Kong's renowned superstar, Kelly Chen. This production was crafted using XR technology at Votion Studios
The studio's portfolio also includes partnerships with a diverse array of agencies to create content for renowned brands such as NIKE and Nescafe. Additionally, there is a deep sense of pride in providing support to various Hong Kong-funded organisations, including ZUNI, an avant-garde theatre ensemble, and multiple universities.
Votion Studios has broadened its presence within Hong Kong Science Park, "Our focus goes further than content creation," said Proeis. "It's about shaping the digital destiny of Hong Kong's dynamic creative and entertainment landscape. We see ourselves as a piece of a broader puzzle where the convergence of art and technology pushes boundaries."
"We are delighted to be teaming up with Votion Studios to introduce the innovative possibilities of VP and XR to Hong Kong and beyond alongside our partner AOTO," commented Elijah Ebo, Director of APAC Operations at Brompton.