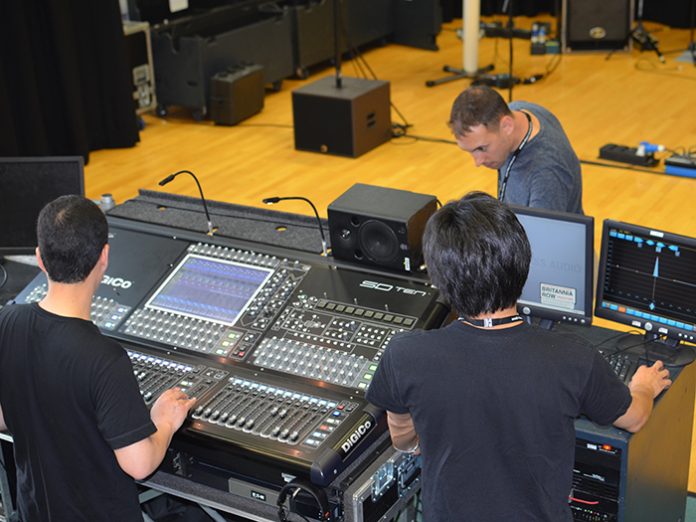 Ex-graduates of Britannia Row Productions Training's Live Sound Technology Course, now in its seventh year, are working all over the world on many of the top tours, events, corporate shows and presentations and musical theatre production.
The intensive 12-week full-time course is delivered from South Thames College, Wandsworth and from Britannia Row Productions HQ in Twickenham. The course also includes gig visits. The facilities at South Thames include lecture rooms equipped with state-of-the-art P.A systems, recording studios, and a sports hall and theatre for trainees to work live with bands and musicians. The facilities at Britannia Row include training rooms and a brand new rigging gantry for PA flying training.
The course covers the basics of acoustics and electrics and all aspect of live sound – microphones, mic & IEM wireless equipment, speaker systems and monitors and onto system design, prediction, analysis and optimisation. The 'house consoles' for the course are new DiGiCo SD10's. Alongside DiGiCo, other console brands taught include SSL, Yamaha and Avid.
The sixty days of lectures and practical days are all delivered by live audio professionals working at the highest level in the industry. This is a unique aspect of the course. Also unique to the course are great mentoring and networking opportunities with people working at the top of the live sound industry.
The Yamaha Corporation of Japan which has relationships with many top universities around the world to recruit top graduates has Identified the Live Sound Technology Course as the best available holistic short course in live sound. Yamaha is putting a contingent of Yamaha employees from Japan onto the 2019 course. This is the third consecutive year that Yamaha employees from Japan have attended the course. These employees have a variety of different roles such as R&D engineers, design and production. Most trainees on these courses want fast, intensive and all-round education in live sound to get there first foot on their career ladder. Others students attending this course have been working for two, three or four years with a small sound company, venue or theatre company and want to expand and develop their knowledge and skills to move onto bigger projects. Yamaha wants their employees to get a greater understanding of how their products fit into the overall picture and of the culture of their end customers and of the live industry. 
Britannia Row Productions Training is committed to helping any graduates who would like assistance in getting into work at the end of the course. At least one graduate off the course is offered the opportunity to continue their development with a one-year paid contract with Britannia Row Productions.
The course fees are £6000 plus VAT
Places on the course are still available.  If interested or want to find out more, contact us immediately as the course commences on 4th March.
PART- TIME SESSIONS ALSO AVAILABLE.
The 16 week part-time Live Sound Fundamentals (LSF) and Live Sound Intermediate (LSI) Courses starts on Saturday 19th January and Sunday 20th January. LSF runs every Saturday through to May and LSI runs every Sunday. The sessions run from 10.00am to 5.00pm on these days at Britannia Row Productions HQ in Twickenham. The courses can be booked as a whole or for those wanting to learn about or brush up on a particular subject, can be booked as specific sessions.
For details of the full course or one day sessions and how to enrol for them, email info@training.britanniarow.com or visit www.britanniarow.com/training.
The course fees are £2000 plus VAT
THE SOUTH THAMES COLLEGE/ BRITANNIA ROW PRODUCTIONS TRAINING 3 YEAR BSc HONS DEGREE COURSE IN LIVE SOUND PRODUCTION.
This course runs in conjunction with South Thames College and is validated by the University of Northampton. Student fee loans are available. All master classes are delivered by Britannia Row Productions tutors. Enrol now for the September 2019 intake. For more details visit the following :www.south-thames.ac.uk
For info on all the courses email info@training.britanniarow.com or visit www.britanniarow.com/training