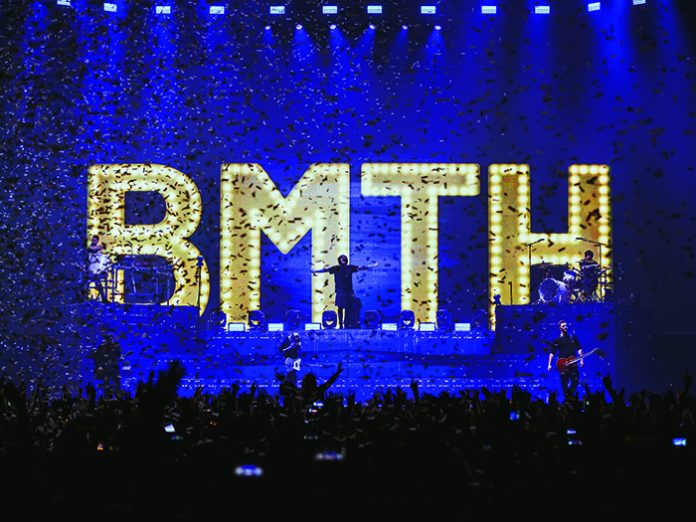 BMTH have backed their critically acclaimed back catalogue with a relentless work ethic, constantly striving to push the boundaries of technical production. In autumn 2016, the band set out on their most ambitious European tour yet: headlining arenas. TPi reports. 
Although Bring Me The Horizon (BMTH) are still yet to re-enter the studio since the last time they were featured in the pages of TPi [Issue 197], the band and their crew have nevertheless found the creativity to refine their live show and unleash a brand new audio/visual assault on arenas across Europe.
"The basic idea of the last tour remained, which was using a multi-tiered video screen that wrapped the set with another large screen at the rear," said Production Manager Rob Highcroft. "The big difference this time is adding more tiers and going as wide as physically possible within the constraints of the arenas we were due to visit. Okulus have created a three dimensional video environment for the band that will 'startle' all who come to see them."
The tour's technical suppliers remained the same for the most part, though some substitutions were made in order to accommodate the sheer scale of the production.
Highcroft continued: "The challenge of this tour from the start was to achieve the visual aspect of the design while also keeping the sound element at the forefront. Pete Russell from SSE Audio and Jack Murphy, our audio crew chief, were drafted in very early on to make sure they could design and build a system that allowed 'Hutch' [FOH Engineer, Oliver Hutchinson] to get the sound he wanted without having huge hangs of PA blocking the view. They did a fantastic job in delivering this."
Highcroft also took the time to praise Video Design's Alex Leinster, with whom the PM spent a great deal of time in pre-production, doing their best to make the huge video component of the show function as one holistic element. Highcroft continued: "There was an element of custom fabrication bought in to allow the video to seamlessly cover the stage for a totally clean look. The big part of the video that was the challenge for those guys was making sure it could all be flown at the same time. We did play with idea of having it in sections but you wouldn't get the same effect. Video Design did themselves proud with a fantastic product and invaluable assistance during the design period."
The crew headed to Yorkshire's Production Park to rehearse at the LS-Live studios, though Highcroft maintained that this was more of a process of refinement than a chance to make changes. He commented: "There were several changes made to content and lighting programming but the show went in very easily and smoothly. Thankfully it just fit into LS-Live – it was almost scraping the walls but we made it work!"
The production crew arrived at Studio 001 with nine trucks of equipment and made full use of the facilities throughout the week, including the en suite bedrooms, two production offices, catering area, green room, dressing rooms and the recently opened CATO Music shop.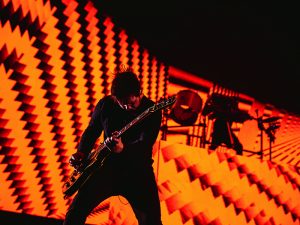 LS-Live Client Director, Adam 'Bullet' Betley, has a well-established relationship with Highcroft that triggered the collaboration. When LS-Live first received the stage designs from Okulus, it soon became apparent that, due to it being a short tour, the brief could be fulfilled with 100% LS-Live rental stock. The company supplied the set, the 8ft stage extension and the central thrust.
Bullet said: "We were toying with the idea of touring a rolling house stage as there were concerns that the d&b audiotechnik J-SUBs and J-INFRAs would not slot underneath the venue's house stage. The solution to save time and money was to conceal the subs at floor level beneath an LS-Live purpose-built, 60ft x 8ft stage front section."
Highcroft elaborated: "The band's priority is always how they sound and what their show looks like, everything else comes second. The prep is just the same as any tour of a smaller scale, though I personally find it much more fun as there as so many elements to the show. This means more trucks, more busses, more people, more kit, and more hotel rooms, but the end result is the same. The band go on stage, play their show, and as long as that all goes to plan then the hard work has paid off for everyone."
PRODUCTION & LIGHTING DESIGN
In-demand studio Okulus' LDs Louis Oliver and James Scott were drafted in to give BMTH a refined version of the visual onslaught that was the band's previous stage production. Oliver commented: "We met the band when they were in Nashville on the US run and they told us they wanted a big rock show – that was the brief! They've always had a big upstage wall and have never really liked the idea of side IMAG. We sat down with Jordan [Fish, Keyboards] originally, and 'panoramic' was the main word that he kept using.
"They wanted the IMAG to be central so it became this mammoth, wraparound LED shape that we could use in different ways. We could now have IMAG windows wherever we wanted. In an ideal world it would have been flat and even wider if there wasn't seating in the way but we had to fold it in."
The panoramic screen appeared to extend further still with the addition of lighting fixtures placed on the seating. Scott added: "We usually use a few side trusses, but we couldn't really go too much higher because the PA was there. We decided to use an idea that almost happened with a Shawn Mendes 360° arena show in the US where there wasn't meant to be any truss at all. Using lighting in the side seating really expands that widescreen look. It lets the performance engulf the arena, which was great for something that we didn't have followspots on."
The lighting rig contained around 180 moving fixtures including Martin by Harman MAC Vipers, Auras, and Atomic 3000 Strobes, Claypaky Mythos and Sharpy Wash 330's, and Ayrton MagicDots.
Oliver talked through why these fixtures served as the main workhorses of the rig: "The Sharpy Wash 330's are great, they're super punchy and you've got a world of features in there. They are the perfect wash fixture but then we can use the nice, fluffy beam look as well.
"Everyone knows what a Viper is and what it can do, so we knew that was going to cut through and do textural work when it doesn't need to be the main feature of a particular song."
He continued: "Working from one of the band's initial ideas we created a cage on the downstage edge with the MagicDots that continued that out on to the wings of the video screen. I haven't used them before and was impressed with them. A total of 60 Claypaky Mythos served as the main floor fixtures, they did everything they needed to do. We didn't play it safe but we made sure we picked fixtures that could do the job – it was more the placement of everything that pulled it all together."
The entire visual side of the show was controlled by an MA Lighting grandMA2, which included all camera, laser and media server-related coordination.
The man chosen to operate the desk, Adam Power, proved his worth not only by showcasing his lighting skills, but his media server knowledge as well.
Scott explained: "We didn't have any video content on the server until the second day of rehearsals, so we were very behind in that sense. It turned out that Adam had done a lot of Green Hippo programming, so he was happy to help with it. He loaded the content on as and when it came in, and when we had bad uploads he would find out what was wrong and figure out how to solve the problem. He really was invaluable during the whole process and he's definitely somebody that we're going have operating our shows again."
Although it was Power's first time on the road with BMTH, he benefitted from the long period that the band spent in production rehearsals. During this time, many of the band members were keen to get involved with the creative process and ensure that their original vision was present in the final show.
Power explained: "Keeping up with the changes that the band want to make has been one of the biggest challenges. They sat with us at FOH and went through the songs, giving a great deal of input when it came to the video in particular. They are definitely an important creative factor in how the overall show looks. They've got clear ideas of what they want to see and that is generally something really intense."
Although the show is timecoded, Power had to ensure that he was constantly on top of things when it came to the strobe hits and tracking moments. He said: "I hit 'go' at the top of each song and then I've got a couple of cues to move key lights and follow Oli [Sykes, Vocals] around. Other than that it's just using palettes – on the operation side of things it's quite straightforward for me. I don't think I could keep up with this to be honest, because each song has around 15 or 20 hits. I'm not that quick!"
The MA Net system used by the crew linked two grandMA2 full sizes desks, one main and one backup, at FOH with a grandMA2 Light that was situated on stage for updating key light focuses during the day and generally maintaining the rig. The operator gave his opinion on Okulus' go-to desk: "They're a great piece of kit and are really intuitive. As far as I see it; the easier the programming is, the more time you can spend being creative.
"We also program the media servers there and have views for lasers as well. It's having that ability to move around the touch screens that makes a lot of difference. We have to update the position and level of the lasers every day for inspection. We then have a whole screen of things for the video content as well so it's vital to have a desk that makes the daily changes so quick."
Lighting and rigging was supplied by PRG XL Video, which Okulus has worked with on a number of projects in the past.
Although Scott and Oliver have decided to no longer tour, they still made sure they had time to cast a critical eye over the design once it was rigged for real out on the road. Oliver elaborated: "The band really wanted to make a statement with this tour and I don't think anything at any point has missed that mark. You walk into the arena and you just go 'holy shit'. Even with everything switched off, you know it's a BMTH show. It's the kind of iconic look that we wanted. It's quite an imposing and forceful look."
Scott added: "I think it's definitely more grown up. Basically they've come into this situation with more experience behind them and it's resulted in a really impressive looking show. They haven't got lights everywhere just for the sake of it, it's more structured – though there's still that visual insanity there that always has to be part of the BMTH package."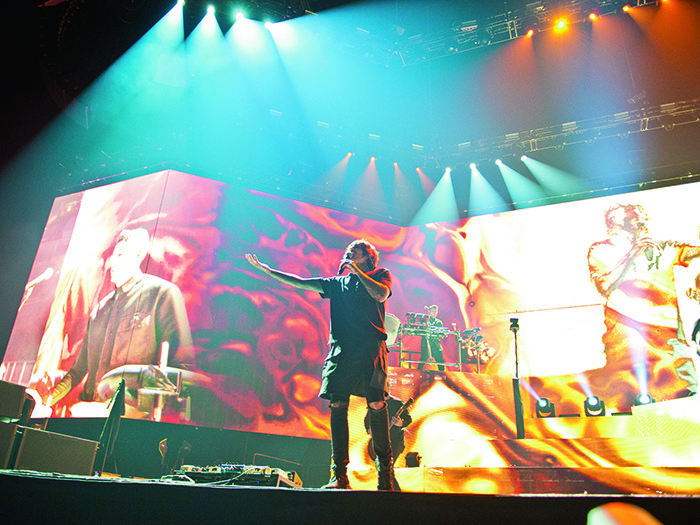 CREATIVE VISUALS
During pre-production the video content was developed by a total of six teams working with a variety of different styles, which all had to eventually exist side by side as seamlessly as the video wall itself. Oliver explained: "Somehow it all came together really nicely. Every piece speaks for itself but also ties into what happens next. The one thing that made it so special is that we had the ability to embed IMAG into all of this content. I reckon if we didn't and had just side IMAGs and content in the middle, it would have been very flat and disjointed. The fact that we could put all of the camera inputs and embed and mask them was the real winner for us."
All video-related hardware was supplied by Video Design, an undertaking that was no small feat and presumably left a lot of empty warehouse and office space in its wake. "It's a massive commitment of gear and people for us," said Director, Leinster. "The rear wall of 9mm Winvision LED, 10m tall and over 35m wide, is matched by more than 100 tiles of 9mm as fascia for the band's risers."
Unsurprisingly, Video Design made the decision to invest in new gear with BMTH in mind. A Ross Carbonite Black video switcher gave Video Engineer Matt Vassallo all the tools he needed to marshal content to screen: "It gives me an incredible amount of creative freedom, especially for its size, and it does everything all in one piece of kit. There's less fuss and I can do everything this show demands faster and better."
Vasallo was joined by Richard Shipman, who directed the camera team: the three Sony HXC-100 operated cameras out front and in the pit were augmented on stage by two Bradley Robo-cams and a pair of fixed minicams for the ever-popular back facing shots. "It's a really transformational show," said Shipman. "The LED is all enveloping and Matt does a magnificent job of taking my cut and blending it to the content. For the audience it's a complete suspension of reality."
Video Design provided a team of seven for the tour, including Vassallo and Shipman, with Rob Stansfield leading the crew. "I can't fault them," said Highcroft after the first three shows. "They're technically faultless and the realisation of Louis' design is perfect. As a touring entity it's working very, very smoothly. That back wall of LED could seriously inhibit load-out traffic, yet here we are zipping out in three hours."
Shipman was also keen to add his appraisal: "Alex is an extremely wonderful person and has thought this job through very carefully. Any questions I had when I arrived, he had the answers for them. As an engineer, it has been a very easy situation to come into."
RIGGING
Tour Rigger Bruce Macleod was brought into the team in September 2016: "For most venues we had eight 'up' riggers and four 'down' riggers, all of whom were in-house crew in London, Birmingham and Glasgow, and from Knight Rigging Services at the other venues. They were all fantastic and very helpful."
Ensuring that the points were marked correctly and chains went in the right place made sure that the 35m wide screen fitted in the venues and the PA and lighting rigs got enough height for the sight lines of the video screen.
SPECIAL EFFECTS
ER Productions further augmented the visual beast by providing 12 of its new BB3 lasers, half of which were mounted on the back of the video truss, while the rest we re arranged on the stage floor.
Zach Griffiths, Leading Technician at ER, explained: "I've got custom mirrors to bounce lasers out into the arena and up into the Gods. The rest of them are for different effects. The challenge of this show is that one unit is doing three different effects – a scanning laser effect, and two different types of refraction effects. The mirror-based effects are very beamy and quite staccato, whereas some of the others are very disco, with flowery accents. It's very broad range of looks."
Griffiths was also present for the few days the crew spent at Production Park in order to make sure that his various effects good to go from the desk and that all of the requisite safety concerns were being addressed. On the tour, Griffiths commented: "We have quite a young and enthusiastic crew so it's been a pleasure to work with these guys – though I was only present for the UK arena shows. James and Louis are both quite young but really talented guys. It's such a big production and it's been great to be involved."
To compliment the lasers, ER supplied Viper deLuxe and Unique hazers for the duration of the tour.
As if this wasn't enough, the crew also made sure that the special effects again made their way onto the BMTH stage, with BPM SFX providing the necessary firepower along with Pyro Tech, Tom Stead.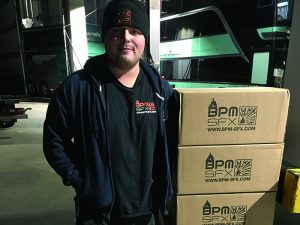 BPM's Technical Director Liam Haswell commented: "We've worked with Rob Highcroft over the past two years, this time supplying BMTH with a CO2 system, streamer cannons, stadium confetti blowers and a pyrotechnic waterfall for the UK shows and a slightly reduced package for Europe. The band and Rob are used to working with SFX, especially the CO2 system after purchasing one from us to use on a recent US run of shows.
"As a result, the cues were already in the show, it was simply a case of having to work in the new effects. We used Magic FX CO2 jets controlled by our in-house built control system, while the stadium shots, confetti blasters and pyrotechnics were all controlled wirelessly using the Galaxis System. It was a great looking show and a pleasure to be working alongside the team again!"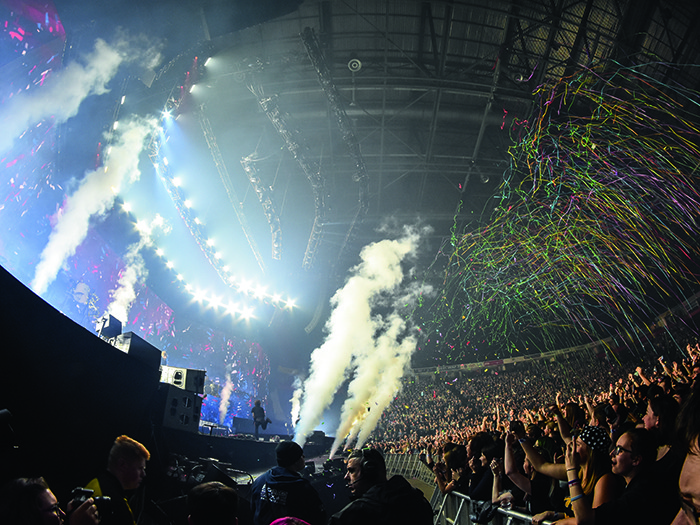 AUDIO
FOH Engineer Hutch has moved back and forth between his chosen audio console during his time with the band, having settled on a DiGiCo SD7 for this most recent outing. He picked up the story: "We needed a lot of channels for this job and DiGiCo seemed to be the only way to go. I'm generally happy with Waves but I'm slowly losing plug-ins day by day – that's the masterplan. All in all it's a great desk and it can certainly sound as heavy as we need it to in these huge rooms."
With the visual component being so integral to the show, Hutch had to work closely with Okulus to ensure that a compromise could be reached without sacrificing audience sight lines or that all important thud. Hutch explained: "I initially worked with Louis to get a rough idea of what he was planning and then went to Jack [Murphy, Audio Crew Chief] to see if he was available to help me design something that had visual as well as audio impact. He's done a great job."
As well as having a part to play in the physical look of the rig, Hutch also found the time to create and contribute three pieces of visual content for the show. He continued: "It was a challenge as nobody really knew what they wanted. The band are very good at explaining what they don't like but not so much what they do! I designed the content for the track Chelsea Smile with Oli in mind, so it's very chaotic, with lots of shapes, lines and swirling effects. The one I did for the song Shadow Moses was more of a textural background piece of set design. I also created some video that made them look like they're standing on a spaceship."
For the Manchester show TPi attended, SSE Audio supplied 20 boxes of d&b audiotechnik J-Series on the main hang (16 J-8's and four J-12's), while the side hang comprised 12 J-8's and four J-12's. Although there is a flown subwoofer hang, the crew also maintained the fearsome sub array that shook venues around the country the last time around, consisting of 14 J-SUBs and eight J-INFRAs.
Murphy explained: "The only restriction for me is that the PA has to be very high on this show – it's 11m from the bottom of the PA to the floor so probably higher than most engineers would prefer. I've not been restricted after that.
"We're working with d&b so we have a main, side and a sub hang in the middle, which is equidistant from both of them to keep the phase in. It's common knowledge now that this show is really sub heavy. We wanted to try and take that impact from doing this in academies and ramping it up to the Ally Pally last year, and try and keep that impact again going into arenas."
He continued: "I saw looking at this design how big the visual elements were and we didn't want to let the sound get left behind, as that's always been a big part of this band's show. We want to make sure the sound travels."
Murphy consulted with d&b audiotechnik to ensure that the sub-bass really came across in the cavernous arenas. He continued: "We also wanted to make sure the impact carried in the sides. We could have just turned the sub array up and spread it out, but then of course then it's too loud down at the front in terms of vibrations.
"We needed to find a way to spread the energy, so flying the subs really helped. The subs are in the middle at the back of the two main hangs, which means the phasing is constant and everything is coherent."
The result of this in-depth sound design has garnered praise from all corners of these packed venues. "The Independent that said the sound was big for the room in the O2 Arena and the management and their families have said you can still feel it all the way up in the boxes," Murphy said. "It's working – Oli's really happy and we still have that impact on the floor for the fans."
Murphy explained how he made the best use of the d&b D80 amplifiers that powered the PA system: "I do all my EQ and processing within the amplifiers. We also do the system distribution using Optocore X6R-FX units (one at FOH and one in the racks) so there's no extra processing that will degrade the signal in any way. All in all the system is working really well for us."
MONITOR WORLD
A long-standing Allen & Heath iLive user, Monitor Engineer Jared Daly made the move to a dLive system for the BMTH shows at the beginning of 2016 and has had the chance to work on each dLive control surface size since. Ultimately favouring the S5000 surface for its combination of power, usability and dimensions, Daly also employed a DM64 MixRack in his set-up, which is hired from SSE Audio for each run of gigs.
Talking about his favourite dLive features, Daly said: "The multiple compression types on the input/output channel strips has been an excellent addition, along with keeping the original reverbs from iLive for continuity for anyone coming from that background.
"The new I/O patch page is excellent and makes soft patching and the use of expansion cards such as Dante very simple. And I am a big fan of how easy it is to assign fader banks on the console – and of the ability to always have access to EQ, compressors and gates when selecting channels no matter which page you are on."
Daly added: "As a monitor engineer it's also great to have the External PAFL input (as the iLive had) to be able to quickly set up crew talk busses directly to my IEM cue. All in all, the dLive has been excellent."
Thanks to a long-standing relationship with Shure, the band was able to redeploy the kit that served them so well on the previous tour, which included a combination of PSM1000 IEMs, an AXT600 spectrum manager and an AXT200 wireless vocal microphone for Sykes with Beta 58 head. The band members also exclusively use JH Audio in-ear moulds, with Sykes on ROXANNES, guitarist Lee Malia opting for JH11's, and the rest of the band choosing JH16's.
STAGE MANAGER DUTIES
After first meeting Highcroft in 2013, Stage Manager Jay Jutting was reunited with the PM in March 2016, just in time to join the band for a European and US festival run.
He said: "The set itself is pretty intense and if anything is askew, even by 10mm, then it affects all of the video. Everybody relies on everybody else a great deal, though that is probably similar for most tours. There's a lot of time management so one team can finish and somebody else can come in and do something else – it's definitely challenging to organise everybody and make everybody happy."
As well as supervising load-ins, load-outs and the show itself, Jutting kept himself busy by firing all of the special effects cues during the set. He laughed: "It's not a new thing for me, as when I started with them I was a stage managing lighting tech and pyro operator! I help set up and fire all the C02 and confetti cannons. This is the first time that we have somebody to do it, but I still end up doing it as I know all the cues. I cue Tom [Stead, Pyro Tech] on when to do the fire curtain to make sure nothing's in the way.
"The stadium shots go off at the top of the show along with the CO2 – I'm able to do the CO2 while he's in the pit, to make sure that no one's in the way. It's been really helpful having that extra set of eyes."
Jutting and the rest of the crew conducted daily pyro tests to ensure that everybody was kept safe during the show, particularly where the band was concerned with the pyro waterfall. He explained: "The band are really concerned with the fans' safety. We go through and make sure everything is clearly marked and the band know by now when the CO2 will go off – we always check and make sure there's no possibility of them causing any problems."
As well as being his first arena run with BMTH, this European jaunt was Jutting's first experience of touring on this scale in general. He commented: "It's been really cool but a lot of work! When you tour clubs and theatres you come in at 10 or 11 in the morning and you'll be done by midnight or 1am. With arenas it's an all-day affair – up at six and the last to close the truck doors at night, sometimes at 2am.
"That said, it does get repetitive going to the same clubs and theatres every time, particularly when they're similar. This is a different ball game – it seems like the arenas are vastly different here in the UK. For example, Manchester has a dock, while some venues only allow you to get two trucks in at a time. You basically have to plan every aspect of the day before it's even begun."
The final word from Jutting certainly encapsulated the shift in mind-set that ostensibly occurs when a crewmember makes the initial jump up to the likes of these all-day mega-tours. He said: "On theatre or club tours, you don't want to be in a hotel room on your day off, you want to be out having fun. All you want to do on this tour is sit down and not walk around on your feet anymore! These places are huge and you are being pulled around constantly by radio calls, which means you end up walking miles every day. You have to embrace the moments of rest – I got a massage yesterday and it was great!"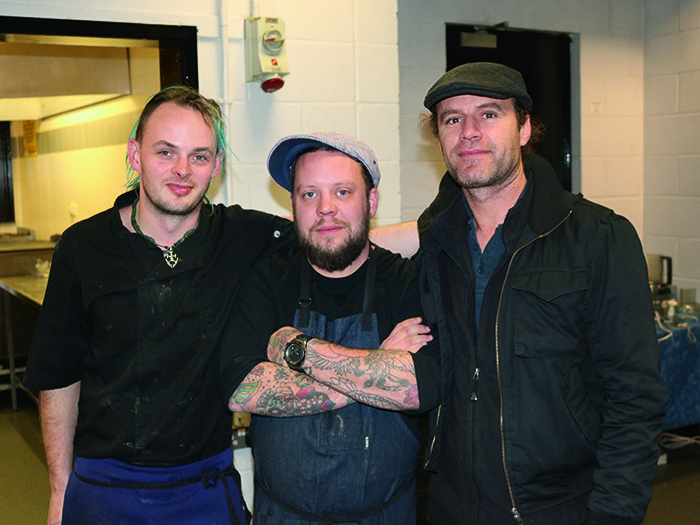 EAT, MOVE, SLEEP, REPEAT
Eat to the Beat (ETTB) once again kept BMTH and their crew fuelled during the UK tour, cooking and serving breakfast, lunch and a three-course dinner for the duration. The company provided high-quality, restaurant-style menus to suit every palate, as well as including choices to accommodate the band's own dietary requirements.
ETTB's Genti Hoxha commented: "There are two vegans in the band, two vegetarians, and one pescetarian. They're good lads, as usual, and aren't really fussy – they just don't eat anything animal-produced."
Over the eight days across the UK, Hoxha and the rest of the ETTB team, which included Chloe Whitehead, David Lesh and Ian Tomblin, served an estimate of 1,732 meals.
Hoxha continued: "It's been a good tour. It's always great to do arenas because they have good kitchens and good dining rooms. It also helps that Rob is a good road buddy of mine. I did his very first tour six years ago and we've stuck with each other ever since."
The band was driven from show to show by Beat The Street, while crew transportation duties were split between Phoenix Bussing and Starsleeper and the substantial arsenal of gear was hauled by Transam Trucking.
A RELENTLESS SUCCESS
Highcroft concluded: "I'm very proud to of been part of this band's touring cycle. It's been a wonderful 18 months, the band themselves are a pleasure to work for and the crew we have around us have become a well-oiled machine.
"There are always challenges in this world but thankfully, for the most part, time was on our side. We started working on this tour in March 2016, which gave us enough time to get any issues tucked away. Not to sound clichéd but I learn something new every day on this job – there is always a different way to achieve the same result.
"From the reviews I saw everyone seemed to be really happy. It was a very large scale show – a lot of people have never seen something so big as far as a video wall that only just fits in the O2! It was a great  value-for-money show in my opinion."
TPi
Photos: TPi, PRG, Tom Sykes, Marcus Maschwitz