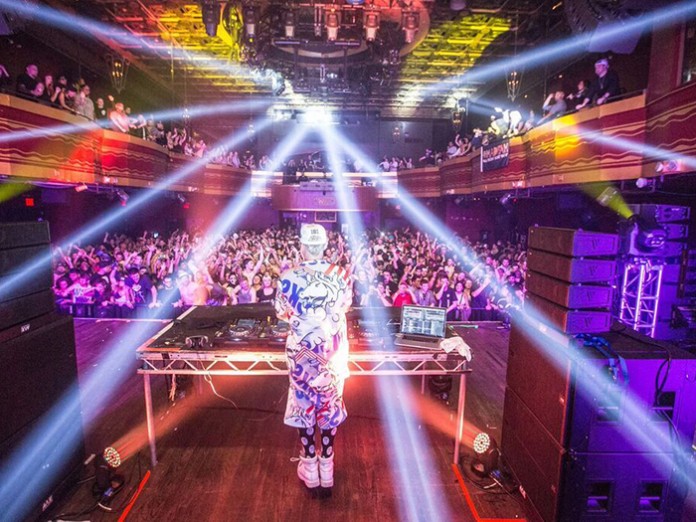 EDM artist Brillz chose a VUE Audiotechnik monitor system supplied by Zeo Brothers for his Twonk Di Nation tour.
It features an all-star lineup, with rising festival trap artist Party Favor appearing on all dates and a rotating cast of support artists that includes Jackal, DOTCOM, Ghastly, LAXX, Kayzo, Party Thieves, Willy Joy, Y2K, Aryay, Dr. Fresch, and Infuze.
"The monitor system is used in conjunction with various venue FOH systems," said Dan Zeo, vice president of The Zeo Group.
"We are traveling with a stereo monitor rig for the DJs consisting of eight VUE al-4s and four al-8SB subwoofers."
Carrying the monitor gear ensures that the DJs have a powerful, consistent experience each night.
"We configure the al-4s on fly bars, four per side, and the al-8SB subs, two per side
ground-stacked, set a few feet to the sides of the DJ booth just past our LED wall,"
explained Zeo.
Multi-tasking as the tour and production manager, Jim Feeney also wears the hat of system tech while tuning the monitor system and the main FOH system each day to ensure the performance is at its peak each night. Feeney is a seasoned touring audio engineer with experience at both FOH and monitors, having mixed for 50 Cent, The Pretenders, Joe Henry, Puff Daddy and Lamb of God, just to name a few. Once the monitors are tuned to his liking the DJs have full control of the show via the "booth output control" on their Pioneer DJM-900 NXS mixer.
VUE's al-4 Subcompact Line Array System features dual 4-inch Kevlar woofers and can
deliver a frequency response down to 95Hz +/- 2.5 dB in this configuration. Its one-inch
exit compression driver employs VUE's proprietary Truextent beryllium diaphragm, which enables the driver to achieve dramatic improvements in high-frequency response and linearity. Weighing in at a slight 18 pounds per cabinet, each al-4 produces a
coverage pattern of 90° horizontal by 10° vertical – enabling the monitor system's acoustic output to remain focused on the DJ booth.
The single 18-inch al-8SB Flyable Subwoofer System is constructed from top-quality birch plywood and coated in a durable twelve-step Dura-Coat LX finish that stands up to tour use. Extensive interior bracing ensures resonant-free low-frequency performance down to
36Hz +/- 2.5 dB, and the al-8SB is as effective being rigged and flown as it is
ground-stacked.
Given the logistics of a national, multi-artist tour it's critical that gear can be setup quickly and efficiently, and the VUE monitor system is making life easier for the techs on
the tour.
"I love how easy it is to get the system built and running each day," said Spencer Smith, tour stage manager and backline tech. When touring day in and day out, it's always nice to know that you don't have to worry about the monitor rig."
Feeny added: "I was very impressed by the amount of clarity and punch the al-4s provide in such a small box, and they work great in conjunction with the al-8SB subs. They hit hard and low enough that the DJs could feel the bass-heavy tunes with clarity and ease."