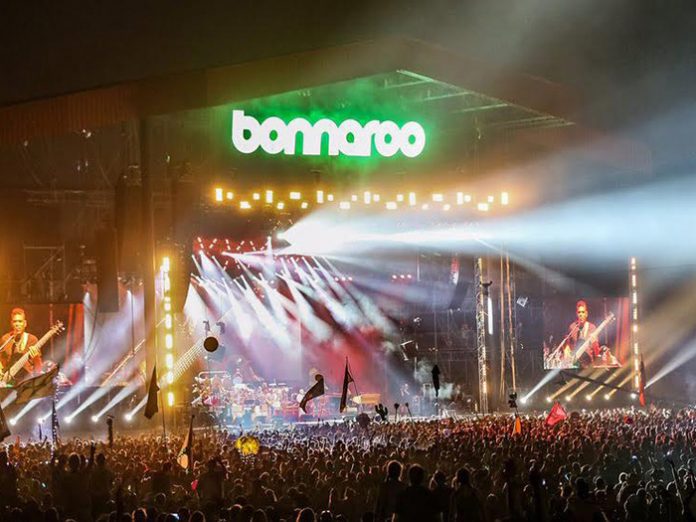 The Bonnaroo Music and Arts Festival wrapped its 15th weekend on June 12 at its a 700-acre home with an attendance of 85,000 and Bandit Lites once again working with Lambda Productions to provide a lighting package. The weekend featured performances from acts including Pearl Jam, Dead & Company, LCD Soundsystem, J. Cole, CHVRCHES, Jason Isbell, M83, Halsey and Chris Stapleton.
Bandit's Production Manager Dizzy Gosnell designed the main stage festival system to accommodate the three daily closing headliners systems, as each brought along a large portion of their own touring system.
Working in conjunction with its LDs (Ali Pike for LCD Soundsystem, Kille Knobel with Pearl Jam and Chris Ragan with Dead & Company, respectively) Bandit created a perimeter system that included Martin by Harman MAC Viper AirFX, Philips Vari-Lite VL3500 Washes, Clay Paky Sharpy Washes, GLP X4 Impression fixtures, Martin by Harman Atomic 3000 Strobes and scrollers, 4- and 8-lite molefays and two MA Lighting grandMA2 Full Size consoles.
With more than 125 artists performing across numerous stages, Bonnaroo's second stage featured performances by St. Lucia, Tame Impala, Haim, Ellie Goulding, Ween and numerous others.
"The Which Stage had to cater for a wide variety of artists," explained Gosnell. "A lot of visiting bands bring additional lights, pyro, scenic and video nowadays that need to be catered for, the system also needs to look big but cannot monopolise the roof, while still being able to read during the day as well as at night."
To achieve that goal, Bandit outfitted the stage with Philips Vari-Lite VL2500 Spots, Bandit 5×5's, Sharpys, Bandit's exclusive GRNLite 8-Lites, GRNLite Moving Washes, Atomic 3000 Strobes with two grandMA2's for control.
Bandit also provided the lighting for the Tower at Bonnaroo, a permanent structure on site acting as a focal point and beacon across The Farm, with lighting designed by Andi Watson and co-ordinated by Will Irons for Bonnaroo. As night fell, 32 Sharpys threw beams at the giant mirror ball, while additional illumination for the tower itself came from rope lights on the cross members and Coemar LED Pars.
Bandit is proud to have been associated with Bonnaroo since its inception, and Gosnell credits the continued success of the festival to Lambda's attention to detail during planning and execution.
"The logistics for a smooth show are immense," he said. "Incredible congrats has to be handed out to Hadden Hippsley and his Lambda staff including John Passaro on the Mainstage and Joel Carmichael on the Which stage. Also, our Nashville Project Manager Matt King and the shop staff who again shifted heaven and earth to make it happen and our onsite crew who just did everything that was asked of them, and then after lunch did even more… all with a smile!"
Bandit Crew:
Mainstage
Jon Houle
Craig Richter
Patrick Cowden
David Hamilton III
Which Stage
Andy French
Terese Fensler
Sarah Eucker
Tower Project
Wayne Lotoza