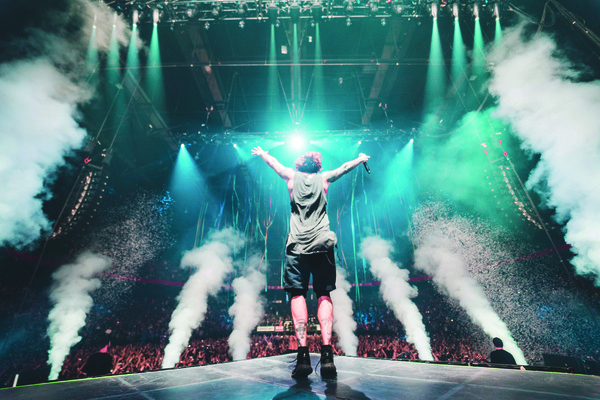 Sheffield-based band Bring Me the Horizon, embarked on their first arena tour of the UK in the latter part of 2016. The tour came in the wake of the bands 5th LP, That's The Spirit, supporting Metallica on the main stage of both Reading and Leeds Festival.
The tour was the band's largest gig to date, including performances at Birmingham's Barclaycard Arena, London's O2, the Sheffield Motorpoint Arena, and the Manchester Arena, supported by d&b audiotechnik, a regular fixture at BMTH gigs.
Front of House Engineer, Oliver Hutchinson said: "I am a huge fan of d&b and would happily never use another system ever again. It's the only PA that can deliver what I want from all frequency bands, its crystal clear clarity of the highs, the low punch of the mids, and the note perfect reproduction of the sub programme material.
"No other sub manages to reproduce all the notes of our sub bass tracks with such an even response combined with such trouser flapping power. With other systems, I find uneven sub response and myself riding the notes to accommodate the lumpy. Some of them just produce a flappy rumble resembling nothing like the audio I feed into them," explained Hutchinson.
Jack Murphy, System Technician at Wigwam Acoustics and SSE Audio Group, supplier of the tour gear said: "To achieve the brief I spoke to d&b's application support team. They suggested looking at placing the L/R flown subs equidistant from both main and side hangs. This made it easy to time aligns both the sides and the mains back to the flown subs creating one big source. This created a tight low end even around the sides and meant that everyone got the trouser wobbling sub BMTH like to give."
The FoH setup included 8 d&b audiotechnik J-INFRA subwoofers, 14 d&b J-SUBs hidden in an array under the stage to achieve a low-end impact, d&b J8 sidefills and 2 additional d&b J-SUBs per side, including 2 J-SUBs under the band's risers.
"I don't use any processors at all, no Lakes or Galileos because I don't think it's necessary. Once you've got your tonal balance tools set up, your HFCs and your coupling filters and perhaps a bit of EQ, you don't need much else. There's so much EQ available on the D80s that there's not any need for anything else to be in the line. With a good network that runs super quick, there's never any issue even though there's no ArrayProcessing in this particular setup," Murphy added.