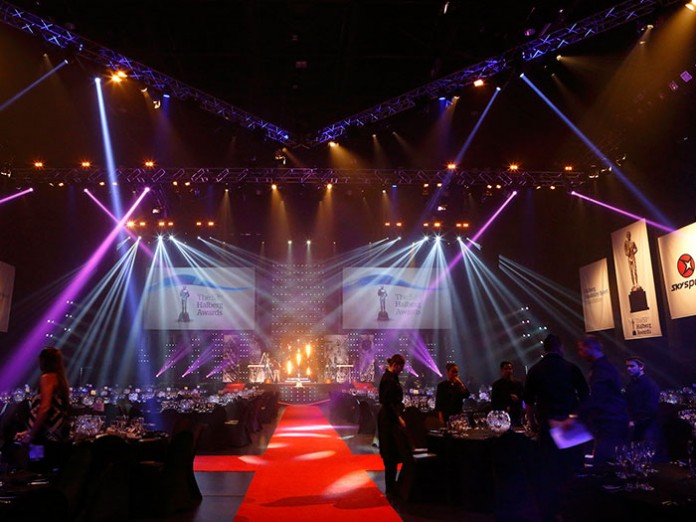 Lighting NZ's 53rd Halberg Awards was a collaboration between the event's lighting, audio and LED screens supplier, Oceania, broadcast partner OSB and broadcaster SKY TV.
Thirty Robe BMFL Spots and 20 x Pointes graced the lighting rig this year among other fixtures at the Vector Arena, Auckland. The red carpet came alive with the great and the good of New Zealand's sporting community, 1,400 of whom turned up for the occasion to see the All Blacks rugby team, cricketers Kane Williamson and Brendon McCullum, golfer Lydia Ko, all Blacks coach Steve Hansen and many more collect their prizes and accolades during a fun and emotion filled evening.
The BMFL Spots were right at the heart of the lighting scheme which in turn was part of an impressive overall event production design produced by Steve Shields for Sky TV. Simon Garrett and Jeremy Fern headed the design team for Oceania. The process started soon after the previous year's event with ideas being discussed between Steve and SKY director Eric Lazayres. In early spring these were put on paper and they met again as a larger group which included Halberg Trust CEO Grant McCabe and the event's technical director Andrew Mills.
Garrett has been involved at the sharp end of the Halberg Awards broadcast for the last six years and has seen the lighting elements evolve and grow. Initially he was brought in when the then-smaller, AV-based event moved from the SKY Casino ballroom to the Vector Arena which, at 85 metres long, with a 39-metre wide performance and working space and a 19-metre trim was considerably larger. Essential to the aesthetic brief was creating a series of signature looks for the room that could be captured on camera, for long shots, reverse shots from the stage and back of camera impressions.
Auckland based Oceania was the first rental company in the country to invest in Robe's game-changing BMFL technology, delivered by Australian and New Zealand distributor the ULA Group. Since that time, their 32 x BMFL Spots have been out constantly on a wide variety of jobs.
"This event is a huge deal for our NZ pride," noted Garret. "So we really like to pull out all the stops and show what can be achieved on a budget with smart high impact production. It needed to have a wow factor for everyone's arrival, be unmistakeable to the live audience and with enough depth and definition to ensure interesting shots from all 12 camera angles for the duration of the Awards presentations and broadcast."
Oceania's Jeremy Fern had a lot of input into the updated show, set and backdrop which comprised projection and LED panels bordered with truss and lighting elements, all centred around a 6m x 12m high tower of 4.5mm LED rigged in portrait format which split in two to create a presenter entrance on demand. Flanking this panel were a pair of 24ft 16:9 IMAG projection screens fed by 20k Christie machines, and filling the void beneath were 10 vertical towers clad with 12mm pitch VuePix LED mesh, tapering in size.
In addition to the 30 x BMFL Spots – dotted around on three V-shaped trusses over the audience with eight on an upstage truss – 20 x Pointes were on the show together with other lights. The Pointes highlighted the audience during the awards presentations and created more static backgrounds using a variety of beams.
The grandMA2 console was programmed and operated on the night by Oceania's Joel Stanners. "They are definitely the fixture I like most at the moment – brightness wise, there's nothing that can complete with them, the colours and gobos are great … and they're really fast" said Stanners. He's now taking 16 x BMFL Spots out on a month long arena tour for classical / pop crossover group Sol3 Mio for which he is the LD and will be using them as the main source on the rig, maximising the animation wheels and numerous creative options he has for lighting this very specific performance genre.