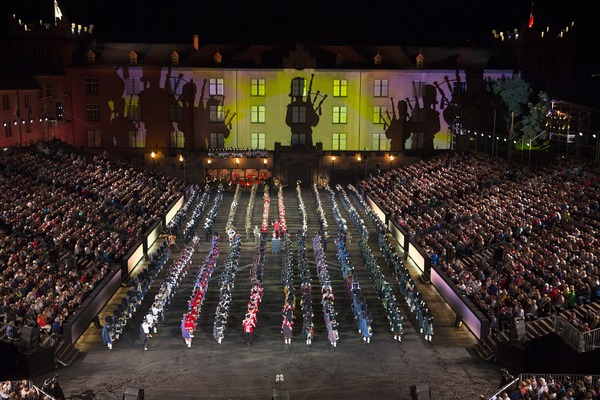 70 Robe BMFL moving lights, 48 Robe BMFL Blades and 22 Robe BMFL WashBeams were used to illuminate 2017s military Basel Tattoo, staged over the course of a week at a former military barracks in Switzerland.
Basel Tattoo CEO, Erik Julliard, directed the 2-hour show. Left and right of the field-of-play were 2 MiTrix video screens, while the front of the Kaserne building was mapped with large format projections, 66 metres wide by 11 metres high, fed by 6 Panasonic 31K machines.
Each side of the performance space 3 Layher lighting towers were installed and most of the 48 Robe BMFL Blades were rigged on them. At the front of the parade ground, all the Robe BMFL WashBeams were positioned on trusses at the back of the seating platforms, together with Robe BMFL Blades. The fixtures were used to illuminate the huge field-of-play, and for key lighting.
The audience sat 270° around the parade ground, with the bands marching in different formations using every centimetre of the performance space and limited lighting positions. "The output of the BMFL is excellent," commented Lighting Operator, Reto Huber. "We really need the intensity of this show. The accuracy of the pan and tilt movement is also crucial, as we're often up to 100 metres away from the point-of-focus".
Reto, Rolf and Roni Huber, as secondary lighting operators, programmed the show over the course of 4 overnight sessions, working closely with media server programmer Michael Kuhn who dealt with the video content playback. Reto has worked with Robe products many times over the last 10 years and intend to use the Robe BMFLs as follow spots on an upcoming project.