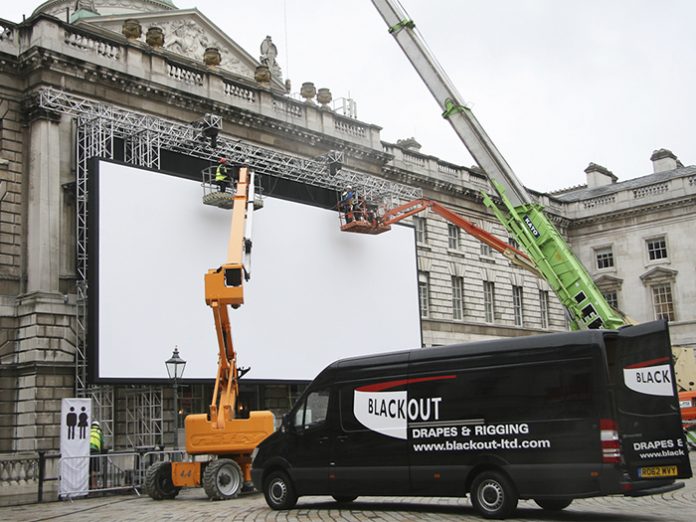 For the 12th consecutive year, Blackout was entrusted to supply the Summer Series with American Express, ten evenings of concerts from pop headliners and emerging artists, before transforming London's Somerset House for its Film4 Summer Screen fortnight of cult, classic and contemporary outdoor movie showings in August.
Project Director Kevin Monks worked with the iconic cultural London venue to supply all the stage rigging and a series of auxiliary structures for 11 pop concerts, including performances from Laura Mvula, Everything Everything and James Morisson. Two wings flanked either side of the stage, from which event branding was attached, designed to have minimal visual impact on the iconic building, drawing in crowds of over 3,000 to the open-air grounds.
The team worked within tight time restraints to transform the historic venue from a music venue into an outdoor cinema location ahead of the Film4 Summer Screen. Having worked on the event and with Somerset House's Production Manager Jon Howes for many years, Blackout has extensive knowledge of the building and adapted the installation accordingly to avoid compromising views of the building's historic facade.
Kevin Monks explained: "A truss structure measuring 20 metres by 23 metres, started metres below the ground courtyard level between the buildings' narrow channels, having been constructed by hand by our team, with the upper truss structure then carefully craned into place. Working within the venue's strict weight-loading regulations, the large projection screen measuring 18 metres 7.5 metres was hung using cantilever arms as the hanging support, with the main speaker concealed behind the screen.
"In the courtyard, a further four auxiliary 10-metre PA towers were installed ensuring that all the movie fans had surround sound throughout the outdoor venue. We also helped to transform the building's internal foyer by providing cream drapes to dress to create a fitting aesthetic to the VIP welcoming area plus the opulent red velvet drapes for the main public entrance."
Jon Howes, Production Manager for Somerset House added: "Of all the events which Live Events produce for Somerset House this one lends itself to the building the best. The historic and cultural backdrop helps to show off the setting and makes for an incredible space for guests to enjoy a vast range of movie screening. Our long association with Kevin and the Blackout team has been a big part of developing the success of these Film4 seasons. With combined expertise, each year brings new refinements to ensure a smooth installation and memorable viewing experience!"
From the 4 to 17 August, open-air cinema fans enjoyed a line-up including Trainspotting, Bram Stoker's Dracula, Girlhood, with Viggo Mortensens' latest film premiere of Captain Fantastic bringing the screenings to a close.