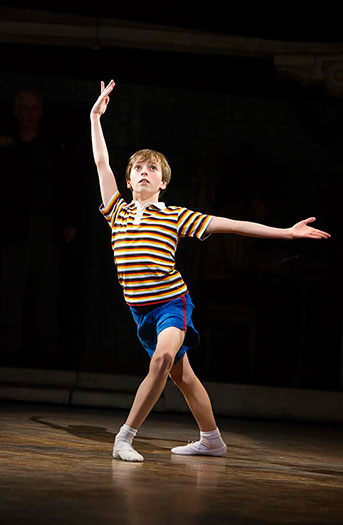 Following its acclaimed 11-year run in the West End, and multiple award-winning appearances in New York, Australia, Canada, South Korea, Holland and on tour around the USA, the smash hit Billy Elliot: The Musical is now embarking on its first ever UK tour. Having worked on the show throughout its London run, leading lighting supplier White Light has been called upon once again to provide its services to the touring production.
Lighting Designer Rick Fisher is responsible for the lighting of the show once again, with his design having won both the Tony Award and Drama Desk Award for Outstanding Lighting Design in New York. Working with him on the tour is Rob Halliday as Associate Lighting Designer and Programmer, repeating the role he filled on the US tour and Dutch productions of the show.
Fished said: "While the look of the show has remained fairly consistent since it first appeared in the West End, the rig has evolved over the years as new technology has appeared and we have adopted new solutions to help make it more practical to tour. This rig is based quite closely on the one we designed for the non-touring Dutch production, which is streamlined so that every light is working as hard as possible. No-one wants to tour with any extraneous equipment!"
Key elements of the rig include the Vari-Lite VL3500Q Spot, VL3000 Wash fixtures, VL1000AS fixtures and Martin MAC TW1s. "The big change we've made this time is to replace all of our Source Four scrollers with Source Four LED v2 Lustr units, and our scroller Pars with ETC D60s", explained Fisher. "This has dramatically improved the reliability of the rig, made it quieter, let us use the lights in new ways since we can now live change from any colour to any colour and, as a bonus, uses less energy than a tungsten rig. The new colour controls in our ETC Eos Console, particularly the calibrated colour library, made it very easy to deal with this change. The Lustrs, as always, are amazing in a completely understated way: they just work, generating rich, vibrant colour or a tungsten warmth that feels like it's coming from a traditional Source Four."
Another LED lighting fixture added for the tour are tiny Gantom tunable-white LED spotlights as footlights across the front of the stage. Fisher said: "In the West End, we have footlights that flip up during the show, something that we can't achieve with the shallowness of our touring show floor. Instead, we're using the Gantom fixtures. They're like tiny, incredibly neat birdies – so discreet they are barely visible to the audience – but because they're always there we can now use them to help us in more scenes."
As well as making the show look visually impressive, the rig also has to be easy to set-up, take apart and tour as Billy Elliot travels across the UK and Ireland. Fisher commented: "Our Production Electricians Gerry Amies, Chris Dunford and James Leatherby along with our Touring Team of Emma Davis, Joseph Theobold and Helen Trow plus the support of everyone at White Light overseen by Jedd Hamilton did a great job of setting things up during a pre-rig at White Light's Wimbledon base and then during our opening stay in Plymouth."
The show is currently playing at the Theatre Royal Plymouth, where it has received rave reviews. Its next stop will be Sunderland, the 'home' of Billy Elliot, followed by Cardiff, Edinburgh, Dublin, Manchester and Birmingham through to May 2017.