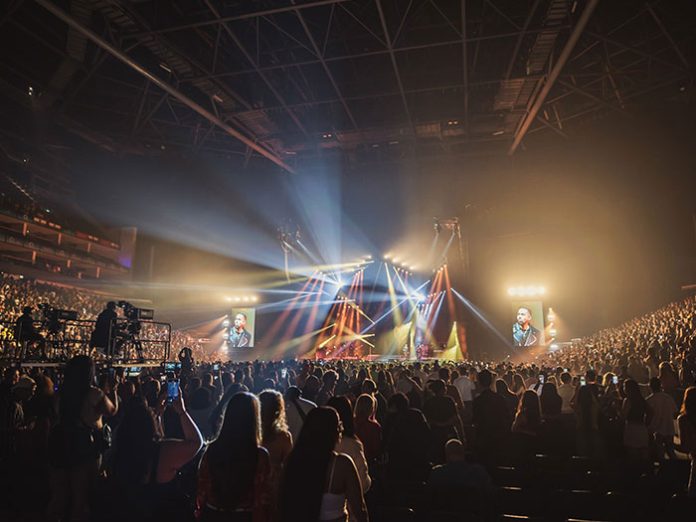 Romeo Santos performed to a sold-out crowd at the O2 Arena as he transformed the iconic venue into a vibrant Latin music club with his stellar performance. The show was the only London stop in Santos' Vol. 3 World Tour, throughout the arena was a collection of 84 CHAUVET Professional fixtures.
Bigabox Productions managed and supplied full production for the show. "We called upon our friends at Encore Audio London and DMX Productions for Audio, lighting and rigging support and solutions," explained Bigabox's Dean Graves, who served as production manager. "The team of experts was complimented by the services of pyro master extraordinaire, John Wilson. Nyfield designed the original show, which was modified for O2 by assistant PM Tom Cull. It was a very memorable show."
The production team had only four weeks from instruction to delivery, but it was not the only challenge they faced. The show was originally intended for a stadium but then had to be scaled down for an arena.
Once the stage came alive with a swirl of movement and colour that took the big crowd on a ride in support of Santos' sound. The lighting covered a wide range of emotions from intense strobing and edgy angles to gentle washes and subtle specials. Helping to define the set and endow it with a structural backdrop were 26 COLORado PXL Bar 16 motorised tiling battens, that outlined risers.
Contributing to the diverse visual panorama were 16 Color STRIKE M fixtures positioned between the set's video screens. "These fixtures filled a variety of roles," explained Graves. "They were used to wash the crowd with warm white and coloured strobes."
Also reaching out to the crowd were the kit's 14 Maverick Storm 4 fixtures and 14 Rouge Outcast BeamWash 1 units. Flown above the upstage deck and under the large IMAG screens, these units projected wide gobos across the arena.
Crowd lighting was very important in this show, noted Graves, given the strong connection Romeo Santos has with his fans.