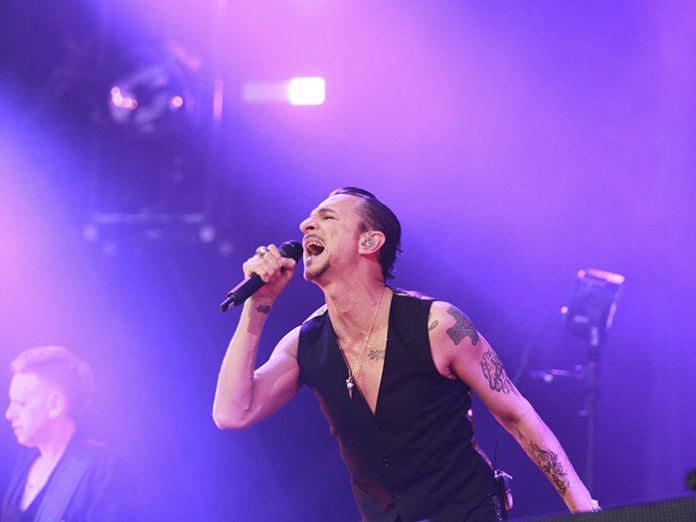 To ensure that the unique Depeche Mode sound comes across as it should live in the various arenas throughout the world, Sound Engineer Antony King is placing his trust in a whole range of beyerdynamic products.
"Unlike in the studio, where we have the optimum conditions for audio work, achieving a good live sound always involves successfully overcoming the challenges posed by the respective venue. And when it comes to dealing with such unavoidable circumstances, it's great to be able to rely on technology that is designed to overcome any obstacle," explained Antony King.
The experienced sound engineer uses beyerdynamic's TG 1000 digital wireless system to ensure that he can handle any radio frequency interference anywhere in the world – as well as be able to deliver the best possible sound quality. A TG 1000 handheld transmitter with TG MM1w interchangeable capsule is used to test the sound system during the preparations at each venue. Depeche Mode frontman Dave Gahan and guitarist Martin Gore both use TG 1000 handheld transmitters with hypercardioid TG V70w interchangeable capsules for their vocal performances. The band's long-serving live sideman, Peter Gordeno, on the other hand, uses a wired version, with the dynamic TG V70 live vocal microphone.
On the bass drum played by Christian Eigner, Antony King uses a TG D70, a dynamic hypercardioid microphone, and a TG D71 boundary microphone ,a condenser half-cardioid microphone, to create the desired sound.
The toms are miked up with beyerdynamic TG D57, TG D58, M 201 TG, TG D50 and TG D70 microphones. The hi-hat is picked up by an MC 930 condenser microphone. Two MC 840 microphones and two M 160 double ribbon microphones serve as overheads. The robust and stable beyerdynamic GST 500 model was chosen for the microphone stands.
The TG 1000 dual receivers are cascaded through the new beyerdynamic WA-AS6/2 antenna splitter. Four WA-ATDA directional antennas provide complete operational reliability. At FoH, Sound Engineer Antony King uses DT 1770 PRO headphones to fine-tune the sound, and communicates with performers by means of a dynamic TG V50 microphone.
Depeche Mode launched the world tour to celebrate its latest album, Spirit, in Stockholm on 5 May. In the first part of the tour, the band will be performing 34 shows in front of 1.5 million fans in 21 different European countries. The musicians will then continue their tour in North and South America.