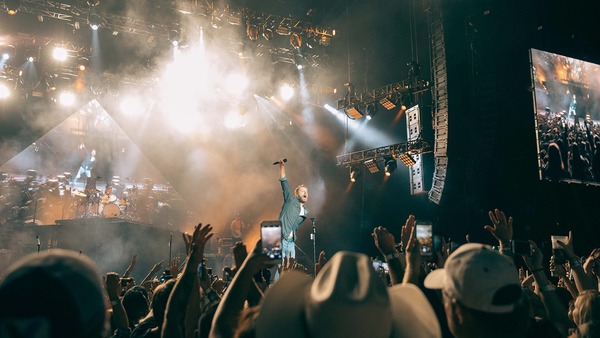 During his What the Hell World Tour, country superstar Dierks Bentley will visit arenas and amphitheatres across North America, energising fans with rousing concerts while also setting a technical milestone.
The Meyer Sound LEO Family reinforcement system will power Bentley's headline shows and is the first on the road touring rig to be digitally interconnected by a Galileo Galaxy networked platform using AVB/TSN Ethernet-based networking protocol.
"On this tour I wanted to have more flexibility and more distribution options to the stage, with our old setup we didn't have a one-box, one protocol solution. Now, with Galaxy and AVB, I have all my digital signals on a single fibre optic line and I have four more channels of analog backup. But the real selling point for GALAXY was the move up to the 96kHz sampling and high bit-depth processing. The difference in sonic quality and dynamic range is huge," explained Bentley.
Galileo Galaxy, Meyer Sound's first fully networkable loudspeaker processor, incorporates a new generation of FGPA processing with up to 64-bit resolution at 96kHz sampling rate with a latency of only 0.6 metres analog input to analog output. Processing and alignment tools include U-shaping and parametric EQ, cross-point delay matrix and improved delay integration.
Comprising six Galaxy 816 processors, with two at front of house and two each stage left and right the Galileo Galaxy network platform is at the heart of an extensive LEO Family system supplied by VER Tour Sound of Nashville. For large arena and shed shows the left-right arrays are, per side, 12 LEO loudspeakers over four under hung LYON loudspeakers, with twin outfill arrays of 16-each LEOPARD line array loudspeakers. For bass impact, six 1100-LFC low-frequency control units are flown in cardioid configuration per side, with four stacks of three 1100-LFC in cardioid on stage. Four UPQ-1P and four UPA-1P loudspeakers are deployed as front and corner fills.
Bentley's What the Hell World Tour launched in January in Dayton, Ohio and wraps up in November 2017 with a 'one off' show at the Choctaw Casino and Resort in Durant, Oklahoma, where a permanent Meyer Sound LEO Family rig is installed as the house system.