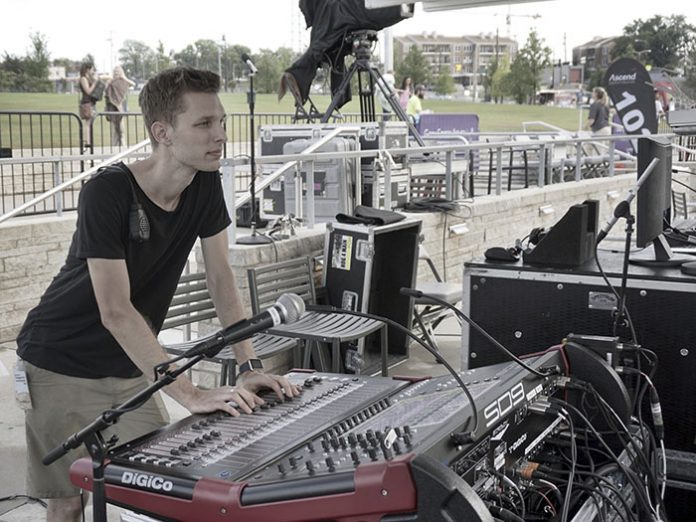 Jake Hartsfield, Rector's FOH Engineer and Production Manager, has added a new tool in Rector's road kit: a compact pair of DiGiCo SD9 digital consoles, used for FOH and monitors. The DiGiCo SD9s give Rector and Hartsfield the power and performance to help stand out on the road, plus the economic effectiveness to stay out there profitably.
Touring with the SD9 consoles, rented through Nashville's Spectrum Sound, has offered Hartsfield and Brian Boggs, Rector's Monitor Engineer, a new level of effectiveness and efficiency.
"Spectrum Sound had SD9s available that were fully upgraded with the new Stealth Core 2 software and the Optocore fibre-optic loop that lets both consoles share the same SD Rack amp heads."
He's also found that the SD9 has virtually all of the EQ and dynamics processing onboard that he needs for live shows. "I put a bit of the Waves C6 multi-band compressor plugin on Ben's voice for some polish," he said. "But everything else I need is right there on the console."
The SD9's sonic power and flexible connectivity, combined with its compact form factor and light weight, helped to boost the economics of touring for Rector and other indie artists. "We're at that point right between a semi-truck and two trailers, so the compactness of the SD9 really helps there," said Hartsfield.
Yet, he emphasised, he doesn't have to compromise any performance. "With the new Stealth Core 2 upgrade, I can have 96 channels," he said. "When we began rehearsals, we were right at 48 channels, so I have plenty of room for additional channels if I need them. I'm also very comfortable with the number of faders and work surface."
And the SD9 offers Hartsfield options that contribute greatly to Rector's live show: Hartsfield connects the SD9's I / O through MADI via the DiGiGrid MGB to a multitrack recorder, enabling him to record every show (Rector's 2014 LP release was a live record), and playback from that routed back into both consoles via MADI enables him to do virtual monitor sound checks at FOH and monitors.
"The flexibility, the sound and the performance of the SD9 are all fantastic," he said. "It's the best-sounding desk I've ever mixed on."