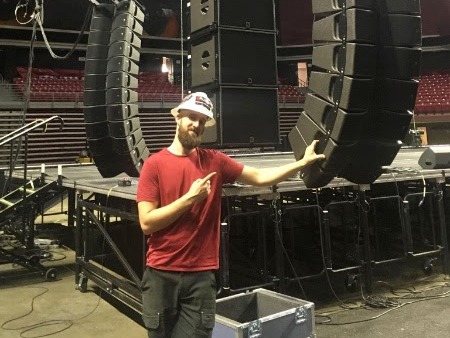 Ask any rental company owner. There's little worse than losing a gig based solely on the logo on your loudspeaker inventory. It was a situation that the team at Bauder Audio Systems found themselves in a time or three, and enough to drive them to consolidate their entire inventory around a brand that is never questioned—L-Acoustics.
Having successfully carried K2 and Kara systems for three years now, Bauder recently purchased 92 new Kiva II enclosures to round out its L-Acoustics inventory.
"We use them in so many ways," said Bauder Audio Production Manager Brian Naab. "We have a couple of 1,400- to 1,800-seat theatres we work with for which Kiva is perfect. We hang arrays from Genie towers for outdoor events. The fact that Kiva II only weigh 31 pounds each means we can hang between 8 and 12 elements for those kinds of applications and still be well under the weight limit for even a Genie tower. It's just so fast and efficient, plus the coverage is exceptional and it sounds great.
"We have plenty of applications for ground stacks and, using the Kiet II bracket, we're looking forward to mounting up to three of them in a vertical array on a standard speaker stand. So, for that smaller gig where we need more SPL and fairly wide horizontal coverage but there is physically nowhere to hang boxes, this is a great looking and much better-sounding alternative to just a speaker on a stick. We are all actually pretty excited about that application."
A few months ago Bauder was prepping for an acoustic set with The Band Perry at the intimate, 300-seat Prospector Bar and Grill, which had no room for a line array system and nowhere to hide. The combination of the stature of the artist and the size of the venue made for a situation where audio had to be perfect. "The Kiva/Kiet II/SB15m ground stack configuration let us use L-Acoustics—a universally recognized, name-brand product—in a setting where we would have had to compromise before. We foresee a lot of potential applications for that combination."
Corporate clients are also excited about the small size. "With these corporate event designers, audio is often kind of an afterthought," he said. "They often put in these giant video walls, and then hanging speakers becomes a sightline issue. So being able to tuck these small five- or six-box arrays tight against the ceiling and above the scenery opens up some possibilities that were just simply not there before now.
"We see this as a straight up improvement in every way possible," Naab added. "Packaging, SPL, coverage, sound quality, ease of use. And combined with the Kara and K2 we had already invested in, we get a single, seamless platform that we can use for literally any gig we get called for."
Bauder is one of those companies that does it all, "Quite a bit of rock and roll, some corporate, and a good deal of theatre and one-offs—the country concert after the Phillies game or the 76ers game where you get three minutes to roll in a PA and have a show, plus a handful of special events," he reported. "Previous to this, we were split between a couple of other brands that make quality products but are rarely seen on tour riders. Now, instead of having to explain how what we had was equivalent to what they asked for on the rider, clients hear 'L-Acoustics' and we can immediately move on to the next thing on their list. There is never even a question about it.
"We started with a K2 rig and some Kara enclosures three years ago and it began paying off right away," said Naab, noting that the rig cemented a relationship with Philadelphia's 3,900-seat Tower Theatre. "As soon as we started making these changes, I knew I wanted everything in the building to say L-Acoustics on it. Rick (company owner Rick Bauder) was completely behind the idea of us getting on one platform—one software package, one rigging system, one amplification system and, crucially, one learning curve."
In addition to its recent Kiva II purchase, Bauder Audio has also added 16 KS28 and 20subs and a quantity of LA12X amplified controllers.