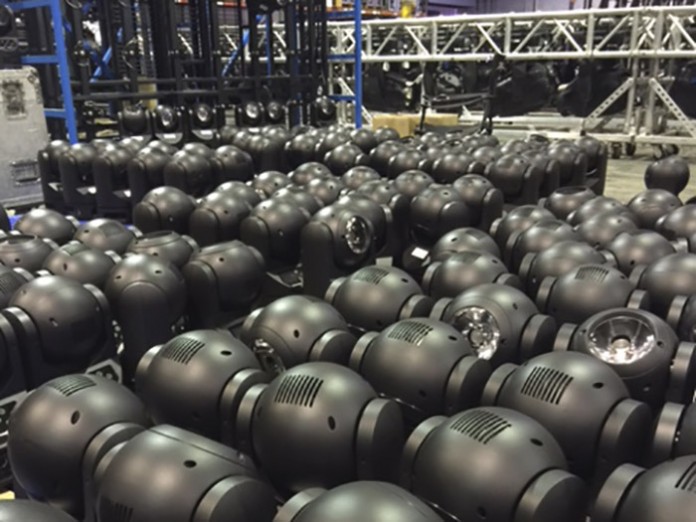 Bandit Lites always strives to provide the highest quality and most innovative gear to its clients, an effort which has led to a sizeable purchase of Ayrton's newest fixtures, including Ayrton CosmoPix-Rs, IntelliPix-Rs, MagicBlade-Rs, MagicDot-Rs and MagicRing-R9s.
"I'm very excited that we have added a large variety of Ayrton products to our inventory," said Jake Tickle, Bandit's Director of Technical Services. "Ayrton has taken a refreshing approach to their fixture design, adding innovation and consistency to their entire product line. From a service and maintainability stand point we couldn't be happier."
These products will all be seen on upcoming 2016 tours, including Dave Butzler's lighting design for Garth Brooks, Mike Swinford's lighting design for Jason Aldean's We Were Here Tour, Nick Whitehouse's lighting design for Thomas Rhett and Little Big Town's 2016 tour.
Las Vegas-based Morpheus Lights, the exclusive U.S. distributor for Ayrton, was pleased to support Bandit Lites on the project.
Morpheus' Managing Partner, Paul Weller stated, "Our relationship with Bandit goes back decades, and over the years we've partnered with them on many projects. We appreciate Bandit's confidence in choosing Ayrton equipment. Bandit was an 'early adopter' of Ayrton products in the U.S., and we've established a great relationship based on our mutual understanding of the high levels of performance and support required by the entertainment touring industry."
Bandit's President Pete Heffernan also praised the three decade long relationship with Morpheus, which dates back to the original Panaspot, saying, "There are very few companies that innovate as quickly and consistently as Ayrton. Starting with MagicPanels right along to the MagicDots, Ayrton has been a world leader in creative lighting effects. It is great to work with Morpheus once again; they have done a terrific job of getting the Ayrton product into the US market."