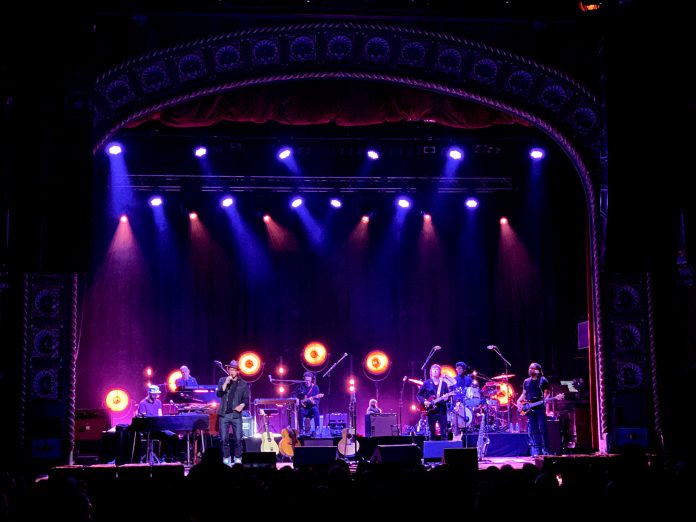 Critically acclaimed singer-songwriter Amos Lee is out on tour with a lighting package once again provided by Bandit Lites.
Lighting designer Jay Waddell found inspiration from listening to Lee's music, pulling design elements that would both meet the needs of the artist and make sense logistically saying, "I like for there to be continuity between my designs and an artistic element that comes from the artist. I typically pull that inspiration from either album artwork or a theme for the tour. Sometimes the concept can be very literal, other times it is a looser connection, maybe a simple shape or a vibe."
Lee's new album My New Moon provides inspiration with Waddell crafting the lighting design around the Robe PATT 2013, arranging them in a low arch evoking the look of a lunar cycle and offering a warm, classic incandescent look.
"The Robe PATT 2013 add an interesting aesthetic to the stage before they even light up," Waddell noted. "They look amazing at low intensities and all have the output to be really powerful and dramatic should the moment call for it. Another thing I picked up while listening to Lee's music was that this was a very forward artist. I knew that what I created would need to complement the music and the band, not distract from or overpower it. It wasn't about packing a million fixtures up there, it was about building great looks and getting out of the way to let the band be the centre of the show."
Between the PATT 2013 lights are two GLP X4 Bar 10s mounted vertically on pipe and base, supplying musical accents and rhythmic movements behind the band.
"During rehearsals, I opted to change out the stock lens for the frost lens," said Waddell. "This added a really nice softness to the light and also allowed me to run them at higher intensities without being harsh to look at."
Bandit also supplied Chauvet RH1 Hybrid fixtures for musical accents and to fill the bottom half of the stage with texture, ColorBlaze 72 fixtures as a 'god light,' accents and backlight the band, while GLP X4 and Martin MAC Vipers are flown for stage wash, band light, and highlighting solos along with breaking up looks and add much-needed texture to an LED heavy package, respectively.
In addition to designing an aesthetically appealing rig, Waddell needed a self-contained system that would fit in a single truck, operate with a one-man lighting crew and provide a consistent look, no matter the venue. With no truss or motors, the productions counted online sets for most of the venues, advancing three empty line sets for each date and carrying six X4 units on an upstage, midstage and downstage pipe, with an additional six Vipers on the upstage baton.
"Between homemade truss tapes and cable looms, we are able to fly everything in about 30 minutes and end up with a very consistent show night tonight," said Waddell. "I take in FOH key light for the six-piece band and advance a spotlight for Amos. When you are a one-man crew it is easy to get pulled in a lot of directions, so it was important to me to find ways to keep the stagehands working without having to look over their shoulders too much. It has been really efficient; we have quite a bit of stuff and are able to get it all built and cabled in less than two hours most days."
Waddell shared how Bandit Lites provided the best in support, both in preproduction and on the road, with Project Manager Jimmy Hatten spending extra time prepping every possible detail of the rig to accommodate Waddell running a one-man show.
"Identifying early that the pipe and base with the X4 Bars would be a time-consuming part of my day, Bandit created a set cart for me that allows the X Bar towers to ride built and cabled," explained Waddell. "All the grip stands for the PATT 2013s ride in the cart as well. Everything about this rig is lean and efficient; it has really been easy to build and carry down the road each day."
"Working with Production Manager Kenny Barnwell and Jay on this production has been amazing," shared Bandit Client, Representative Shawn Lear. "Jay's vision is a chameleon design approach, surrounding his artists in an illuminating space that emphasizes the music and live stage performance. His Amos Lee queues highlight the intimate moments with warm incandescent, whereas the digital and LED technology to bring the uplifting tunes connecting with visual navigation to the audience."
"This was my first project with Shawn Lear as an account man," Waddell finished. "I have known him a long time and worked with him in the past as a Project Manager, so I looked forward to working with him on the other side. He was really helpful guiding some fixture selection and counts to stay within the budget and get me what I needed to bring this design together."