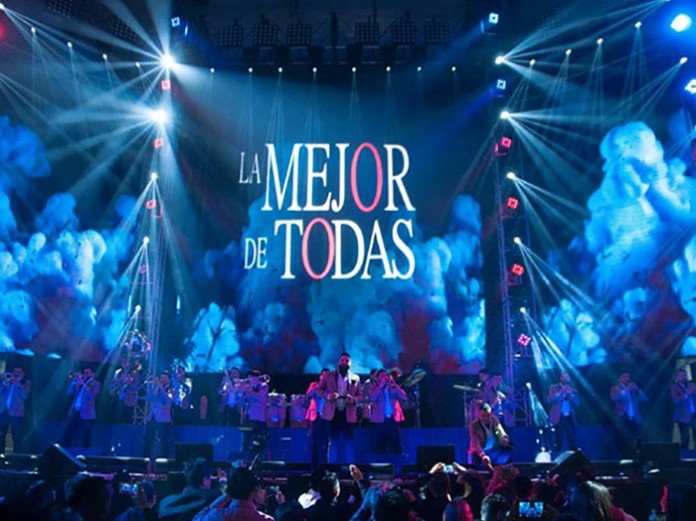 Mexican 17-piece Banda el Recodo, which has been going since 1938, recently introduced a new, high-impact lighting rig featuring over 140 fixtures from Chauvet Professional.
"When we decided to renew our lighting system, we tried many makers and models. Whereas it was a major investment, we knew we should be very careful in the selection of fixtures according to their power, performance, flexibility and reliability, as well as support of the brand. Chauvet products exceeded all our expectations," said Arturo Guevara, LD for Banda el Recodo.
The band's new expanded lighting rig includes 84 Rogue RH1 Hybrids and 16 Rogue R2 Wash moving fixtures, 40 Next NXT-1 moving LED panels, six Atmos high-output fog machines, and 16 Data Stream 4 optical splitters. Aside from providing an array of exciting looks for the band's multi-faceted musical performance, the new compact and multi-functional lighting rig also made it quicker and easier for the Banda el Recodo production team to transport and load in the lighting rig.
As Guevara explained it: "The Rogue RH1 Hybrid moving heads allowed us to reduce space issues and installation time for our lighting rig. Having the flexibility to use a single fixture to project powerful beams, spots or wash effects is a great advantage when it comes to creating our lighting designs."
Banda el Recodo, which has won six Latin Grammys and toured through Europe, Japan and Australia as well as North and South America, has also benefited from the pure punch of its new lighting rig. For example, the six- and eight-facet prisms of the Rogue RH1 Hybrid, which can be used simultaneously, allowed Guevara to create stunning 3D effects with extraordinary clarity in a rainbow of colours. Meanwhile, the R2 Washes provide him with a wide and homogeneous wash light with enough coverage for the group's larger stages. For its part, the Next NXT-1 allows the LD to display graphics and video in a panel format.