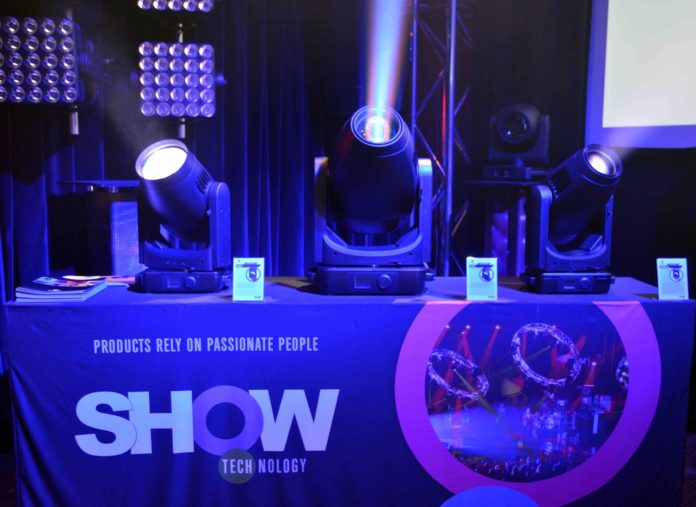 When it comes to LED technology, Ayrton leads the way with innovative products and demonstrated its full commitment to supporting Show Technology to introduce its most cutting edge LED-based automated luminaries to the Australasian market.
Ayrton's Global Marketing and Sales Director Michael Althaus commented: "The events went very well, with nearly 200 customers in attendance, and the response was overwhelming. Show Technology have done an amazing job already in introducing Ayrton to the market, but showcasing and comparing our range of products in this manner was mind and eye-opening for our customers."
The new Ayrton products showcased were:
GHIBLI is Ayrton's first 23,000lm LED spot luminaire that is factory-equipped with a framing system designed to offer lighting designers unlimited creative possibilities without any compromise.
MERAK is a powerhouse of technology that features a big textured Fresnel lens, a proprietary 10:1 optical zoom system, combined with a 250W low-etendue RGBW multichip LED module.
MISTRAL TC is a new versatile, fully equipped 14,000lm spot luminaire in the same ultra-compact and lightweight format as MERAK.
MINIPANEL FX is a new multi-function and multi-use luminaire that combines the same main features and essential components as the MAGICBLADE FX and MAGICPANE FX, also in an ultra-compact format.
MINIBURST is Ayrton's latest addition in the Creative Solutions range: a graphic strobe luminaire with fast and powerful, continuous, unlimited rotation on pan and tilt, that combines the main features of the MAGICBURST in an ultra-compact format.
Customers in Australia's three major cities were also treated to a preview of what is around the corner with a demonstration of BORA TC, Ayrton's radical new 32,000lm wash luminaire with a generous 10:1 zoom-range, framing, and feature-packed to enhance creativity.
"I've always been a fan of the Ayrton products, however, they've never been known for their workhorse fixtures," remarked Paul Collison of Eleven Design who attended the Sydney event. "I was particularly surprised by their attention to detail with their new lines of workhorse fixtures. The quality of light and feature sets in fixtures like the Ghibli are amazing. I'm excited to get them out in the wild and have a play.