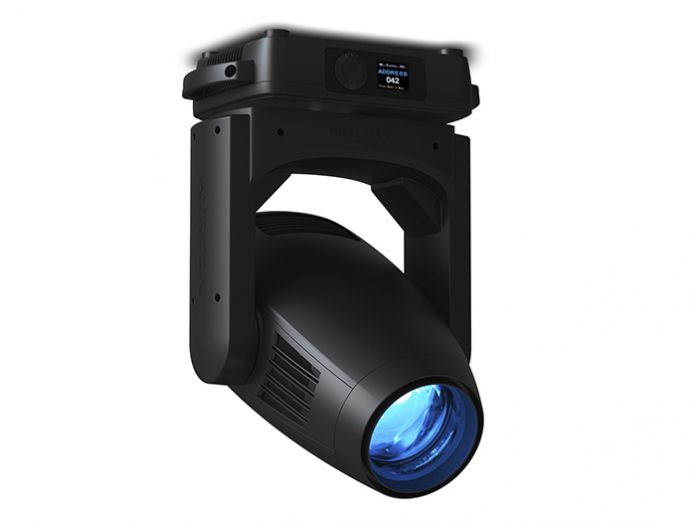 A new development in the Ayrton automated luminaires range is Mistral TC, a 14,000 lumen white LED spot fixture.
Launched at Prolight+Sound 2018, Mistral-TC is the latest in Ayrton's new range of fixtures.
Sharing a form factor with its sibling, Merak, Mistral-TC is a versatile, feature-rich, white LED source spot in an small package and a weight of less than 19 kg. Designed for applications requiring perfect colour reproduction, Mistral-TC offers a white LED module, calibrated at 7000K, with a native CRI greater than 90 and high TM30 readings. Ayrton's Mistral-TC delivers an output of over 14,000 lumens, and has a 7° – 53° beam spread with accurate image resolution at all beam angles.
Ayrton's Mistral-TC features include CMY colour mixing, variable CTO and a seven-position complementary colour wheel all of which combine to produce an large palette of vivid pastels and saturated colours. The effects section includes 7 indexable rotating gobos and 9 fixed gobos – all of which are interchangeable, a continuous graphic animation effects wheel, 15-blade iris, a five-facet indexable rotating prism, and a soft-edge frost filter. Heat is dissipated by Ayrton's unique liquid cooling system with a silent ventilation mode designed specifically for studio and theatre applications.
Michael Althaus, Ayrton's Global Sales Director said: "The new line of wash and spot fixtures has been developed in response to our customers' demand for a full range of lighting solutions from Ayrton that cover every aspect of lighting and size of venue, with enough flexibility and stamina to meet the demand of any performance space or tour. The arrival of Mistral-TC as a complement to our Merak LED wash fixture really sees the range taking shape, and our customers are extremely excited to see the way our ranges are developing."