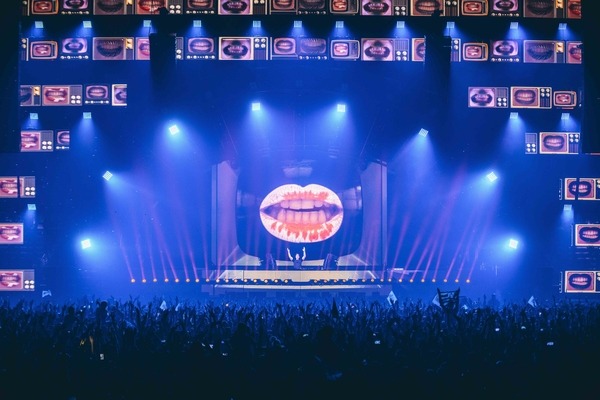 The 2nd edition of the Fun Radio Ibiza Experience, organised in association with Ushuaïa Ibiza Beach Hotel, took place on 14 April 2017 at the Accor Hotels Arena in Paris, supported by over 200 Ayrton lighting fixtures.
Around 17,000 people gathered at this huge EDM event which transformed the venue into a massive dance floor to the sounds of top DJs Robin Schultz, Nervo, Sam Feldt, W&W and headliners, Afrojack and Hardwell.
"The Paris show is a little taste of resistance," said Show Director, and Founder of High Scream, Romain Pissenem. "To stand up and dance and have fun is the only response we can show to the threats to which our city has been subjected."
Helping Pissenem bring the spirit of Ibiza and the unique Ushuaïa vibe to Paris were over 200 Ayrton lighting fixtures, including over 100 Ayrton MagicBlade-FX, 50 Ayrton MagicPanel-FX and 50 Ayrton MagicDot-XT. The fixtures were supplied by Ayrton as part of collaboration between the Parisian manufacturer and these masters of spectacular party nights to bring one hell of a party to Paris.
"The Paris event is important because it is a big show and everyone's expectations are high," continued Pissenem, "plus it is my home town and I want to give it something special. At Ushuaïa we have seven different shows – a separate 1 for each DJ – with a new show every day of the week; and every year we create seven new productions, which get bigger and better each year. In Paris, we have just one chance, once a year, to give people the best party possible. So when people walked into that massive arena this year, even those who came to the first Paris edition in 2016, I still wanted to blow their minds with a huge new show."
Pissenem delineated the top of the stage with a long line of alternating MagicPanel-FX and MagicDot-XT fixtures, and added more down the sides, interspersed between the strips of LED screen, to create the massive wall of light. Inside of this he placed fifteen angled trusses to replicate the arch of the Ushuaïa stage, each of which was alternately loaded with 4 Ayrton MagicBlade-FX and an Ayrton MagicPanel-FX unit; while 6 truss towers located far upstage each carried half a dozen more Ayrton MagicBlade-FX, while a long, stage-wide row of Ayrton MagicDot-XT was located in front of the DJ booth.
"The MagicPanel-FX were really good for this as they are unobtrusive in appearance but have the versatility to do so much within each fixture. I could conceal them until the moment I needed them and play with their appearance so they never looked the same way twice. Each time I moved the MagicPanel-FX it really changed the appearance of the design, and the design itself took on a different appearance with a real 3D depth when viewed from different angles across the arena."
Pissenem concluded: "I love the Ayrton brand and have been used to working with them for years. When I want to create new effects or ideas with the light, I know Ayrton works in a way that will produce something amazing."