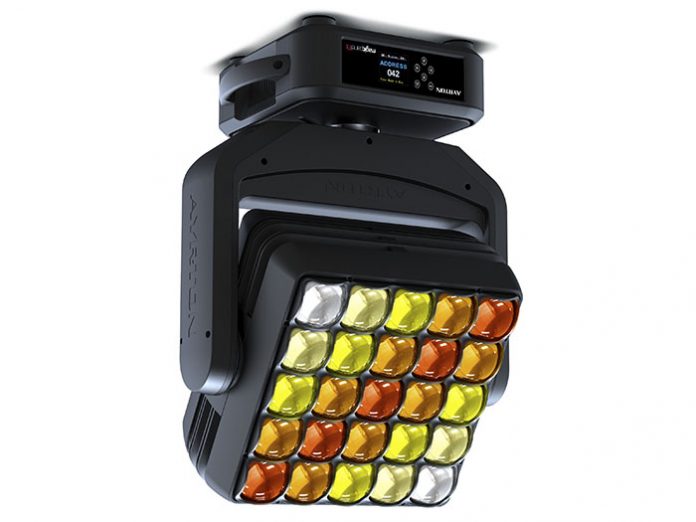 Chief Design and Technology Officer of Ayrton, Yvan Péard, has recently been expanding the scope of several of the popular Ayrton ranges, with the latest innovation to come from the company being a new addition to the MagicPanel series, the MagicPanel-FX.
With its front face comprising a five by five array of new squared lenses with isolated, high-powered RGBW LED emitters, the MagicPanel-FX offers exciting new possibilities for creating 2D graphical effects. Each of the 25 squared 65mm output lenses have an optical surface equivalent to that of an 80mm round lens, allowing the MagicPanel-FX to produce an extremely powerful beam capable of creating new 3D volumetric effects.
A new optical zoom system with no visible moving parts outside the unit is formed of a proprietary system with a 15:1 zoom ratio that produces a zoom range of 3.5° – 52°. The unit is capable of projecting everything from tight shafts of light to a wide wash, making it useful for pixelmapping, and for use as a powerful special effects projector or wash light.
Another standout feature of the MagicPanel-FX is the ability of its zoom optics to project a solid beam that initially appears round, but then squares off as it separates into a patchwork of colours. At its widest spread, the smooth field of the highly original luminaire projects as fully round.
The MagicPanel-FX features the same continuous, unlimited rotation on pan and tilt first introduced on the MagicPanel 602 in 2013, and has serial connectivity, meaning it can be controlled using DMX-RDM, Art-Net, sACN or the wireless CRMX TiMo by LumenRadio.
With the same dimensions as the DreamPanel family, MagicPanel-FX has multiplied the creative potential of Ayrton's growing product ranges.