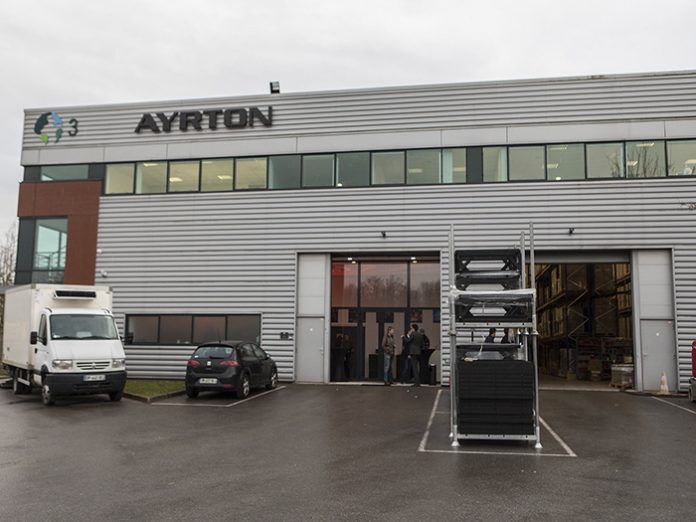 French LED lighting manufacturer, Ayrton, has announced its new headquarters and a growing product line as it moves its HQ to a new, independent 1350 sq metre space in Villebon-Sur-Yvette in south-west Paris. The new premises include a brand new lobby, more office space, a warehouse, meeting rooms and a permanent 220 sq metre showroom.
A distributor day inducting Ayrton's broad international dealership preceded the official inauguration, which took place on 8 March 2018. Over 200 guests attended the grand opening event and were treated to a tour of the new premises, a cocktail dinner and previews of Ayrton's new light show which will be revealed to the public at Prolight+Sound 2018, Frankfurt.
Central to the evening's celebrations was the new showroom, available to all distributors and clients, which has been designed to facilitate the demonstration of the full portfolio of Ayrton's LED fixtures.
"The showroom is the perfect setting in which to demonstrate units to clients," said Glyn O'Donoghue, Managing Director of exclusive UK distributor, Ambersphere Solutions. "There are over 200 fixtures in the rig with all Ayrton products represented. It will be a valuable resource where we can bring our clients to visit the company in Paris, show them the products in a 'real' setting and spend quality time with them."
Erik Guertin, International Sales Manager with Ayrton's Canadian distributor, Theatrixx Technologies, was equally impressed: "Ayrton's light show at Prolight+Sound is always something to behold. The level of programming and the way in which it illustrates what Ayrton fixtures are capable of is unparalleled. Having an installation of the same calibre in a permanent showroom with year-round access means we don't have to wait until the next big trade show to see – or show – the products in action. It's a fantastic opportunity."
Ayrton chose the Grand Opening to officially launch Mistral-TC. Mistral-TC is the next in line of Ayrton's new range of fixtures, signifying the company's development as it focuses on a new range of LED spot and wash light fixtures.
Mistral-TC is a versatile 300W white LED source spot, feature-rich and incredibly small, which shares a form-factor with its compact sibling Merak. Designed for applications requiring perfect colour reproduction, Mistral-TC once again pushes the boundaries of technology with an entirely new white LED module, calibrated at 7000K, with CRI greater than 90 and high TM30 readings, an output of over 14,000 lumens and a 7° – 53° beam spread with perfect image resolution at all angles.
Mistral-TC's feature-rich system offers CMY colour mixing, variable CTO and a 6-position complementary colour wheel. The effects section includes 7 indexable rotating gobos and 9 fixed gobos, a continuous graphic animation effects wheel, 15-blade iris, a 5-facet indexable rotating prism and a soft-edge frost filter. Heat is dissipated by Ayrton's unique liquid cooling system with silent ventilation mode for studio and theatre applications.
"Ayrton's focus has shifted, but the integrity, creativity and ingenuity remains the same," commented CEO Chris Ferrante. "It was good to celebrate this with our partners, distributors and clients at the Opening Celebrations, and to see their excitement and enthusiasm for the journey as Ayrton continues to lead the way in LED fixture design."