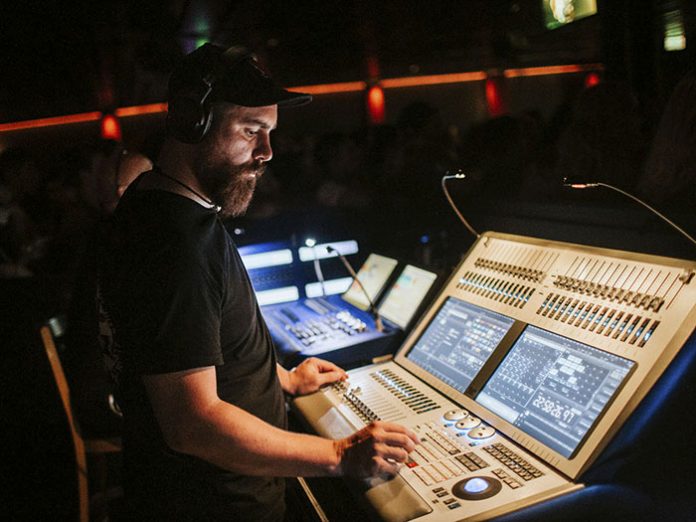 Baltimore-based rock band All Time Low is currently out on a US tour in support of their newest album, Last Young Renegade, which was released on 2 June. For lighting control on the road, LD Jeff Maker is running his design on a pair of Avolites Sapphire Touch consoles supplied by JR Lighting Design of Tinley Park, IL, which also furnished the tour's lighting fixtures, video package and rigging.
Maker shares that Avolites consoles have been his preferred console brand since 2006, and he's used the Sapphire Touch on 10 tours, including this one, since March of 2015. "I continue to choose this console because of its fast software and its ability to work smoothly with both copper lines and CAT5, allowing me to use more DMX lines than most consoles on the market," he said.
The Young Renegades tour features a rig full of profiles, strobes, washes and a back wall of LED video panels in a cityscape orientation. "I'm controlling the video content from the Avolites console, but it's run through two servers on stage and it's all time-coded," Maker added. "And I add in anything else from the house rigs when it makes sense."
The LD points out that helpful features of the Sapphire Touches, which are running Titan v10.1 software, include pixel mapping and multiple layering/movement FX, along with their "super sensitive touch screens, the set list feature to jump from page to page quickly and easily, and the ease with cloning fixtures."
Maker further appreciates the ability to link the two Avolites consoles together as a backup, loves the automated faders, and says that something "even as small as being able to import your own images or graphics to set the perfect personal legend" will keep him using the console for future tours.
Additional features that have come in handy in this particular tour have included the key frame shape generator and pixel mapper "to help create dynamic effects with ease," the LD continued. "Both of those features help me raise my show programming and design ideas to a higher level, for sure."
"Jeff is a fantastic designer," enthused JR Lighting Design President Jason Reberski, who noted that his company previously worked with Maker on two Pierce The Veil tours and provided the specified Avolites consoles for those treks as well. "Avolites is his first love and first choice, so we're happy to accommodate him. He's one of the best Avolites programmers in the country – the best I've seen."
The US leg of The Young Renegades tour kicked off at Houston's House of Blues on 30 June and wraps up on 7 August with its final performance at another House of Blues in Lake Buena Vista, Florida, before heading overseas for a Pacific Rim tour leg.