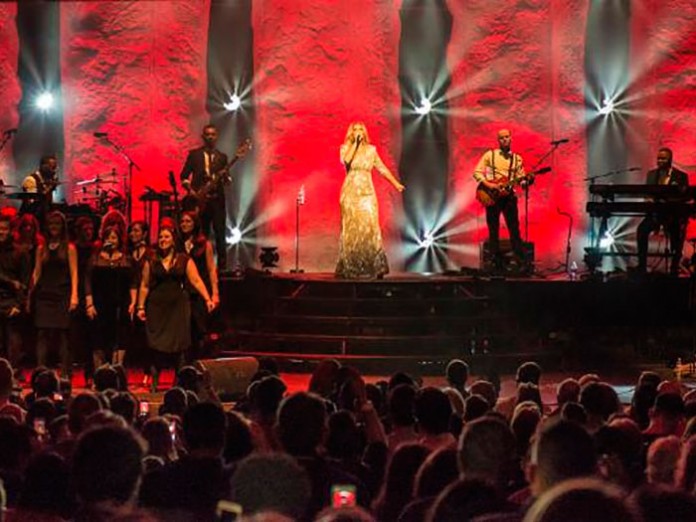 British singer and X Factor winner Leona Lewis toured the UK in February and March with an elegant lighting show designed by Jamie Thompson and controlled by Avolites Sapphire Touch and Tiger Touch II consoles.
Thompson's brief for the tour, which visited 13 cities across England, Wales and Scotland, was to create an intimate show pushing the focus on to Leona and her band as they performed new material and her internationally bestselling back catalogue. The Sapphire Touch was used as the main console, networked via Titan v9's Multi-User feature to a backup Tiger Touch II.
"Multi-User is incredibly easy to set up and offers some great features, like being able to use the backup as a satellite console, which becomes especially useful when working in theatres where sightlines at FOH can potentially be an issue when programming," said Thompson. "Other than that it works mostly in the background but it's comforting to know that there is a backup in case the worst did happen. Feature-wise, I've been bowled over with the Key Frame Shapes engine as it adds a whole new element to the already great effects onboard the Avolites consoles."
To create the desired look, Thompson specified a rig which included Vari-Lite VL3000 Spots, VL3500 Washes, Clay Paky B-EYE K-10s and GLP X4s. One of the main focal points of the show was the five pillars rigged at the back of the stage, created from Showtex's AluShape. Thompson specified x2 Avolites Ai S8 servers at stage end running over ArtNet, controlled by the Sapphire Touch, to power visuals created by Dan Robinson and projected via x2 21k Panasonic projectors.
The Avolites consoles and servers were supplied by MIRRAD. "Leona's new album is all about a journey of self discovery, so I wanted portray the concept of sketching ideas, hopes and dreams," Thompson explained. "The Alushape is an aluminium backed fabric that crumples and creases and holds its form. Lit from the top and bottom this takes light amazingly and has much more depth than a flat screen."
Ai v9 is Avolites' new OS for all Ai servers and features an all-new Audio Engine, a Dynamic Content Page, a new User Interface, and 58 new and updated effects.Leona Lewis's 'I Am' tour played at venues including the Liverpool Empire, Birmingham Symphony Hall, and the London Palladium.