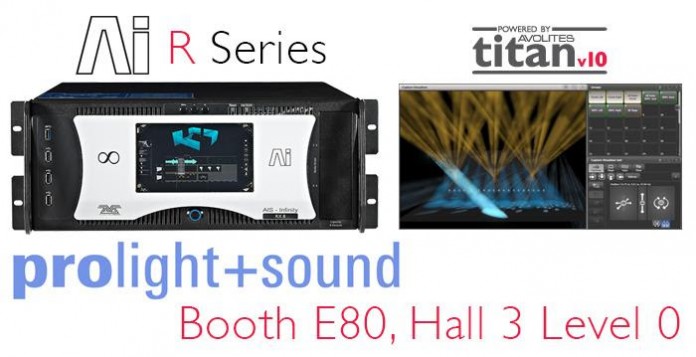 Avolites will be on Booth E80, Hall 3 Level 0, at Prolight + Sound in Frankfurt from 5-8 April to exhibit its 'supercharged' Ai R Series of media servers and officially launch the new feature-rich Titan V10 and Ai V9 software.
The much anticipated Titan V10 OS is packed full of a wealth of brand new features. One of the most striking additions is the full 3D visualiser powered by the Capture engine, which allows the user to create and edit shows right inside the Titan interface and lay out fixtures in the space using the console's encoder wheels. V10 also allows the user to view intensity values in one place via the Intensity Grid. This clearly shows levels, source of information, whether increasing or decreasing and tracking information.
Ai V9 features an all-new Audio Engine, a Dynamic Content Page, a new User Interface, and 58 new and updated effects.
The Ai R Series, which was launched at ISE in Amsterdam in February, is Avolites' most powerful range of media servers to date, comprising a range of four and eight output media servers. All servers in the range take advantage of the increased speed and power of the latest processors, solid-state drives and AMD graphics cards.
"We've packed the very best technology into the Ai R Series so we can be sure it satisfies even the most demanding of applications," said Avolites' Sales Director, Koy Neminathan. "The servers offer smooth playback of up to 8K media using the leading AiM Codec over four or eight full 1080p HD outputs. The Ai R Series is the future of media technology now, direct from Avolites. We can't wait to showcase what they can do for your project."
Avolites is also exhibiting its new user designable control solutions for Titan software. Especially designed for installers, the new API (Application Protocol Interface) allows you to use your own touch interfacesl controlling Titan via basic HTML commands – a bespoke user interface tailored for your specific use, which then harnesses the power of the Titan software. It is compatible with popular control systems such as Q-Sys and Crestron. With this new ability to 'tune' Titan to your specific requirements you can start using Avolites' leading lighting software in an array of new situations and environments.
Also on show will be the Arena console with Optical Titan Net Switch and Avolites' complete Titan Net solution.
"The Arena console has attracted a huge amount of attention since its launch – we've been inundated with lighting designers, rental companies and specifiers," said Neminathan. "Feedback has been fantastic on the vast array of faders and buttons alongside an integrated touch screen, and second, smaller touch screen and the rotary encoders. The unique Optical Switch built in to the console was regarded as an incredibly useful tool."
Arena is the ideal console for festivals, theatres and anywhere that a larger control surface is required. It combines the popular interface of the Tiger Touch II with 30 additional Playback faders and expanded live control options and features.
The Optical TNS is perfect for connecting FOH to stage using Cat5E Ethernet cables for distances under 100m, and an Optical input for fibre connections over distances exceeding 100m. The 1Gb network switch also features a built in UPS to ensure the stability and resilience of your show setup.
Avolites will also be showcasing the latest generation of the world leading Art 2000 touring range; the Art 2020 features networking protocols, RDM, earth leakage monitoring and user configurable breakers.
Avolites' redesigned, bespoke Prolight + Sound booth features a 'Media Integration Focus' area where visitors can get hands on with the latest in integrated lighting and video.
Avolites will be on Booth E80, Hall 3 Level 0, at Prolight + Sound in Frankfurt from 5-8 April.