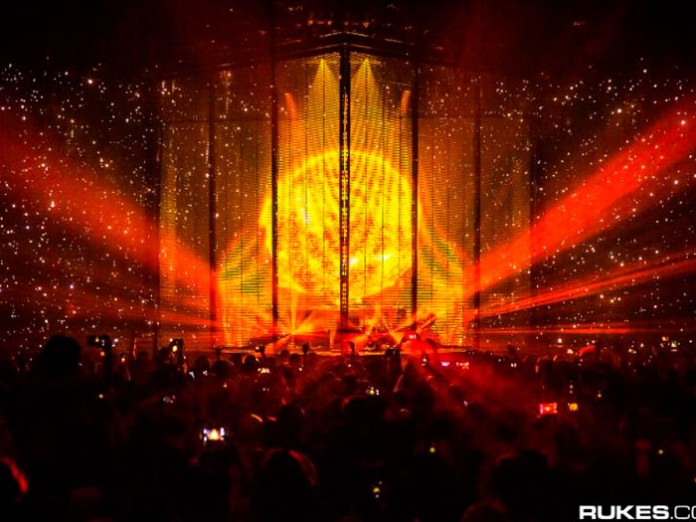 Superstar DJ Eric Prydz premiered his EPIC 4.0 shows in America this spring, backed up by his 'dream team' of long-time entertainment technology collaborators, RES, to create a colossal visual show driven by Avolites Ai S4 servers.
Playing a total of seven shows spread across New York's Terminal 5, LA's Hollywood Palladium and the San Francisco Armory, EPIC 4.0 was the fourth incarnation of Prydz's now legendary assault on the senses. They mix, as online electronic music magazine Resident Advisor states, 'an arsenal of big room tunes with stadium rock-level visuals'.
The behind the scenes team is comprised of Mark Calvert of RES as Production Director, Liam Tomaszewski as Creative Director and VJ, Ross Chapple as Lighting Designer, Ian Gotts as Tour Production Manager, Dave Green as Ai Programmer, PRG, PRG Nocturne USA and Lightware USA.
The core element of the ambitious show was another magical-looking hologram, which seemed to float centre stage in front of Prydz as he performs.
"The visual effect for the audience is that Eric appears behind or even as part of the hologram visuals," explained Calvert. "The hologram content was projected onto a gauze cube surrounding Eric at double the normal speed – 50 frames per second instead of the often used 25 fps, via the Avolites Ai S4 server. This was used to achieve a fluid smooth look which meant that the Ai S4 processors were working twice as hard to drive the content, which they handled comfortably.
"The S4 worked perfectly throughout and never missed a beat. Unbelievably, the entire show was just two HD outputs: one to the projectors and one to the LED screens, which is remarkable considering how much is going on. It is also testament to Ai that we can pixel map and control in such a way with only two outputs – all live, absolutely no timecoded, timelines or pre-programming."
The team toured with one S4 as the main server and another as backup. Dave Green set up the Ai servers to be triggered by Liam Tomaszewski's Livid MIDI device which, due to Tomaszewski's long term collaboration with Prydz and the S4's speed, mixing was spot on every time. All of the animation content was pre-designed by Tomaszewski and beamed via projectors onto the cube. The opening content was designed by LA-based visuals supremo GMUNK.
"People who work in the industry and came to the performance thought the whole show was time coded rather than triggered live," added Calvert. "Eric changes his shows each time he performs, so Tomaszewski and LD Ross Chapple had to be on it to ensure the whole thing came together as beautifully as it did."
Surrounding Prydz on stage were more PRG LED screens, giving the shape of a cube to the audience. To add to the visual effects, Chapple created a fast-paced design using a rig which consisted of Clay Paky Sharpys (in NYC), Robe Pointes (in California), Mac Auras, Atomic Strobes, Blinders and six 30Watt RGB Lasers.
The concept was the brainchild of Calvert, Green and Tomaszewski who created the initial drawings before passing the designs to PRG who devised CAD drawings to reflect the dimensions of each venue.
Further EPIC 4.0 shows are in the planning stages for later in the year.