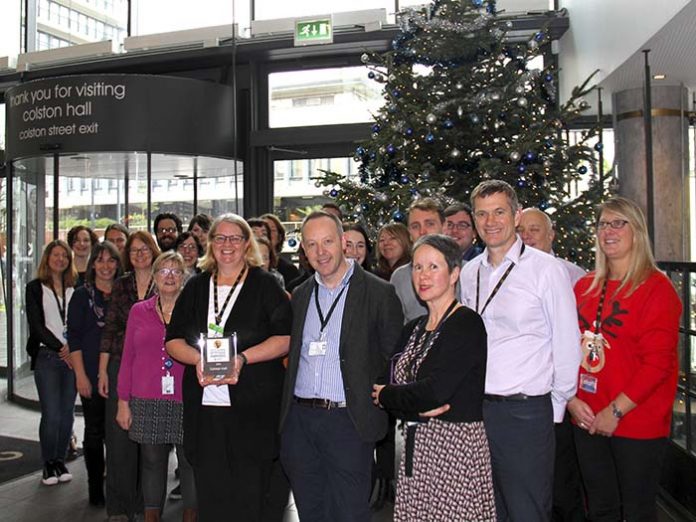 Music charity Attitude is Everything has today announced winners of their inaugural Outstanding Attitude Awards – recognising Charter of Best Practice venues and festivals at the forefront of creative and innovative access provision for Deaf and disabled audiences.
Highlighting that no event is too small or too large to improve its accessibility, the six winners range from a 500-capacity venue in South London to one of the UK's best-known outdoor music festivals.
They are:
The Albany, London – video-based travel information: shot via smart phone and hosted on the venue's website, these short-form videos depict the real-time journey from the Albany's three nearest train stations for the benefit of all attendees including people with mobility impairments.
Colston Hall, Bristol – Fast Forward Festival: a pioneering conference and series of performances that put accessible music-making centre-stage, and involved significant changes to the building and investment in staff training.
Motorpoint Arena, Nottingham – British Sign Language interpretation service for all new events: the venue have developed a new BSL service in partnership with audiences and Performance Interpreting, providing tailored BSL interpretation as part of its core programme and upon request.
Just So Festival, Cheshire– Inclusive programme: Just So compiled their programme guidelines into eight specific categories such as "Sit Back and Relax" and "Make Some Noise", enabling audience members to make informed choices about activities best suited to their needs for each of the 200 events at the festival.
Nozstock: The Hidden Valley, Herefordshire – Online access information and social story: based on a working farm with challenging terrain, Nozstock have produced detailed online maps and access information resources – including photo guides, distances to key locations and a downloadable "social story" for people with autism and learning disabilities.
Reading Festival – User-led British Sign Language interpretation service: a consistently innovative event, organisers Festival Republic have made huge strides to engage with Deaf audience members over several years, now working with SSE Audio and Creative Technology to transmit user-led BSL interpretation of performances to screens on both viewing platforms and the main stage.
Full details of 2016's winning entries can be find here.
With nominations drawn from venues and festivals signed up to Attitude is Everything's Charter of Best Practice, 2016's winners were chosen by a group of music and access experts:
Hannah McKearnen, Mystery Shopper for Attitude is Everything
James Hanley, Senior Staff Writer, Music Week
Mark Butler, Head of Venue Operations, Roundhouse
Paul Reed, GM, Association of Independent Festivals
Commenting on the awards, Suzanne Bull MBE, CEO Attitude is Everything said, "The Outstanding Attitude Awards are proof that all live music events, regardless of size and resources, can think outside the box and become more inclusive to a wide spectrum of disabled audiences.
"This year's winners range from some simple but hugely impactful online resources, to a groundbreaking music conference and several cutting edge innovations for Deaf fans. I would like to congratulate all the winners on their success, and I hope other venues and festivals can take inspiration from their achievements and can-do approach."
More than 125 venues and festivals are now signed to Attitude is Everything's Charter of Best Practice. Ticket sales to deaf and disabled fans at their events increased by more than 26% in 2015.
Ben Stephen, Head of Production at the Albany:
"Attitude is Everything have supported us brilliantly to make practical changes to our working practices that benefit all building users. The walking guides were quick and simple to produce and reminded us that improving accessibility can sometimes just require a little thought and effort rather than a hi-tech or expensive change.
"Our aim for the future is to move beyond specific access issues and embrace an 'extra live' attitude to everything we do, where accessibility is standard for artists, audiences and visitors. We know this is ambitious but we also know Attitude is Everything will be there to support our progress."
Christine Swain, Head of Customer Service at Colston Hall 
"Bristol Music Trust and Colston Hall are thrilled to be recognised by Attitude is Everything for our Fast Forward Festival, in which we had to make huge organisational step-changes in order to put accessible music making centre stage.
"We are committed to improving access to all of our concerts and education events and this award shows that, with the help of organisations like Attitude is Everything, we are heading in the right direction to becoming a completely accessible building."
Stephen Chaston, Accessibility Officer at the Motorpoint Arena Nottingham:
"We'd previously received feedback that customers were unaware they could request an interpreter – so we set out to change that! We started conversations with Performance Interpreting earlier this year and have worked together to find a suitable location for signed performances within the Arena bowl.
"As a result of several successful trials, we now offer the interpreter service across all of our events and proactively promote the service via our website and social media channels. Our aim is for as many Deaf British Sign Language Users as possible to enjoy as many events as possible!  We're absolutely delighted that our efforts have been recognised and wish to thank Attitude is Everything for this award."
Sarah Bird and Rowan Hoban, Directors of Just So Festival:
"We are over the moon that our programme guidelines, which are one of the things we do to ensure Just So is accessible, have been recognised as an outstanding initiative.  We have been thrilled to partner with Attitude Is Everything for the past three years and have seen huge uplifts in positive feedback and accessible ticket and services take up. Our mantra for programming a world-class outdoor arts offer for families is "if we don't give you goosebumps we are not doing it right" and that truly must include everyone."
Ella Nosworthy, Creative Director, Nozstock: The Hidden Valley:
"We are absolutely thrilled to have been recognised in this way. Without the support from AIE we would still be floundering wondering what we could do to improve accessibility on a very uneven greenfield site. Attitude Is Everything helped us to see that access isn't restricted to mobility and there were very easy adjustments we could put in place that would make all the difference to our visitors. We are very proud of the information we have on our website for those with accessibility needs and this award is testament to the improvements that can be made no matter what the challenges are. We couldn't be happier."
Sharon Reuben, Head of Guest & Artist Liaison, Festival Republic (Reading Festival): 
"The team at Reading Festival are delighted that our BSL Programme was so successful this year. Our desire was to improve access at the festival for fans with hidden as well as physical access requirements. Using live interpreters for some performances, interpreters filmed and shown pic-in-pic on the main or front-of-house screens and also on a flat screen located at a designated Viewing Platform alongside Twitter, social media and stage screen updates about upcoming performances, we are thrilled to have made music and comedy more accessible to our large and loyal Deaf BSL-using fan base."