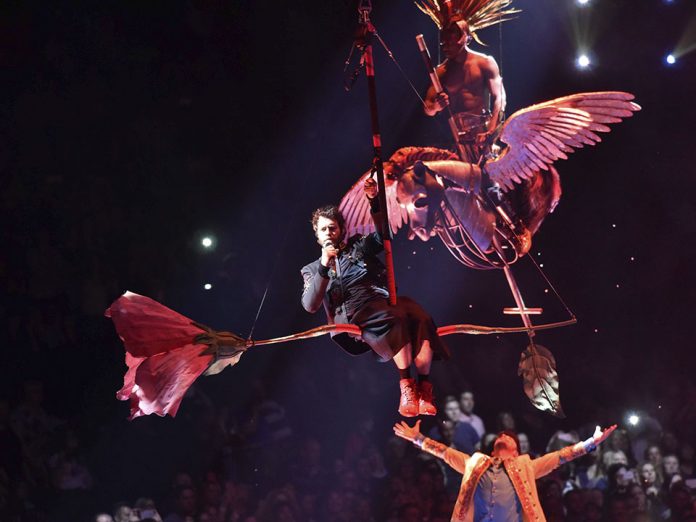 Artem SFX, an award-winning physical special effects company, was recently commissioned to work with Creative Director Kim Gavin, Production Director Chris Vaughan and Production Designer Misty
Buckley to create a daring show for Take That, currently touring UK arenas until 16 June 2017. Following the team's contribution to Take That's sell-out 2015 arena tour, ten Artem technicians were brought on board to design and produce an extensive range of special effects including aerial props that performers could ride on as they fly above the stage. These flying objects include a stylised swan, a winged horse, a unicorn, a jewelled orb and sceptre, a poppy swing, a giant fishhook and a bohemian bed, which form part of a revolving carousel.
Each of these components had to be light enough for the dancers to carry into the arena, as well as structurally safe. Once on stage, the props are attached to the flying system and lifted into the air where the aerialists perform gymnastic choreography in time to the band's catchy pop anthems. The design of these props was carried out in close consultation with the creatives and performers to ensure all of the actions and acrobatics could be carried out as planned.
Artem also created a giant inflatable flower, which encircles the round stage area. The 16 enormous petals inflate to a 26m diameter half way through the show, so the team had to find a way to hide them in small discrete boxes under the edge of the stage. Several small-scale versions were tested before creating a full-size test prototype.
Another challenge was to disguise the flower from looking like an inflatable – as the tour dates approached a massive purpose-built spray area was constructed to paint the petals in different colours.
Mike Kelt, Artem CEO, commented: "It was lovely to have the creative freedom to interpret Misty Buckley's imaginative designs and fulfil Kim Gavin's creative direction. The Artem team enjoyed being given the opportunity to design some really memorable central pieces for the show and make them come alive. It's always a privilege being involved in such a high profile project and knowing that our work is being seen by so many people."
Artem combines the best of engineering expertise with creative flair to provide everything from puppetry to props and pyrotechnics to animatronics. In 2012 Artem also helped to bring to life the enormous creative and logistical vision of the opening and closing ceremonies of the Olympics and Paralympics.
For Take That's 2015 live tour, Artem created props including a Penny Farthing tricycle and giant human 'hamster wheel', a spectacular 'copter-bike', a huge 'underwater' garden scene, a collection of shadow puppets and a mirror-clad piano.