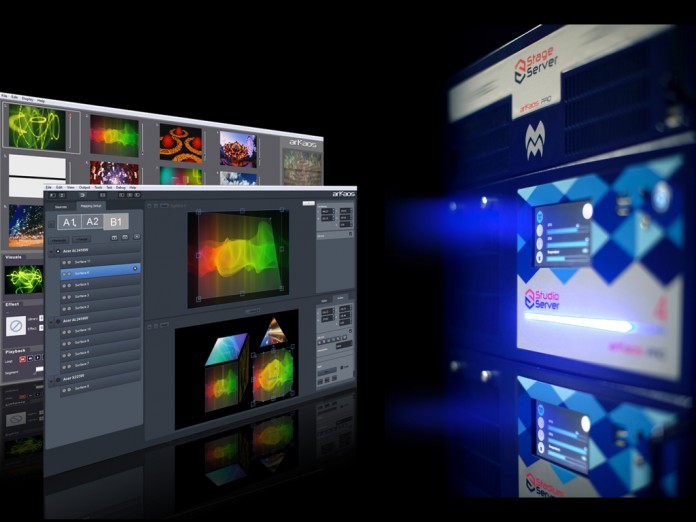 ArKaos Pro and High End Systems have announced an exciting new software collaboration which delivers simple, seamless, fast integration of video and lighting control. The two companies have worked in close cooperation to create a new Auto Patch feature which enables any Hog lighting console to take control of an Arkaos media server, quickly and easily, at the press of a single button.
The new Auto Patch feature allows any Hog lighting console to automatically detect and configure itself to any ArKaos media server and its MediaMaster software, so the lighting designer/programmer can patch the media server with just a simple button-press. This means lighting designers can skip the time-consuming configuration of DMX channels and universes.
"High End Systems is the first console manufacturer to forge such an association with ArKaos, and we are very proud to say ArKaos is the only media server that requires zero configuration to be operated through a Hog console," said ArKaos Pro CEO and software architect, Marco Hinic.
"We are very happy to be working with High End Systems because there is a great synchronicity between our two companies' ethos," said Agnes Wojewoda, ArKaos' managing director. "Arkaos works continually to develop products based on operational simplicity and accessibility for users of all levels. This latest development is no exception as it guarantees better integration of our media servers with the Hog consoles and opens up a new, faster and more flexible way of working for all lighting designers.
"The Auto Patch feature further improves productivity and ease of use across the entire Hog family of controllers," added Jonathan Kemble, Control Systems Software Manager at High End Systems. "Both novice and experienced users will greatly benefit from Auto Patch through decreased complexity and time spent on setup. High End Systems is excited to be working with ArKaos to provide tools that integrate seamlessly and maximise designer's creativity."
The new Auto Patch feature will be incorporated as standard into ArKaos MediaMaster Pro software and all Hog consoles including the Hog 4, Full Boar 4, Road Hog 4, HedgeHog 4, and the Hog 4PC software. To see it in action for the very first time, visit the ArKaos stand (Hall 3, Stand C67) at Prolight + Sound where Arkaos servers will be shown in tandem with a number of High End System Hog consoles.