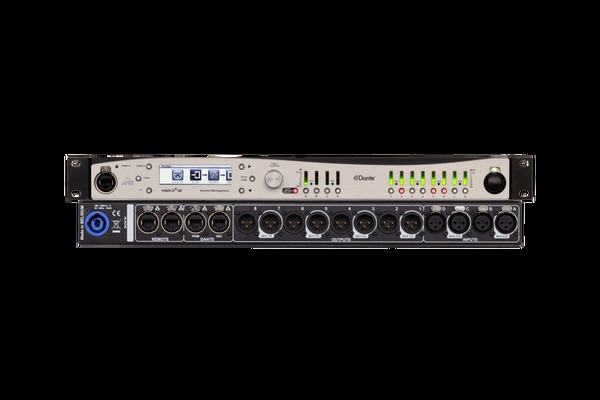 Apex Audio has introduced the first model of the next-generation Intelli-X3 series, the Intelli-X3 648 system management processor with optional Dante networking capacity for full network redundancy.
Intelli-X3 is designed in close collaboration with sound engineers, system technicians and system integrators to set new standards in system management and speaker processing. With internal processing up to 192 kHz, high-end, studio-grade analogue circuit designs and mastering-grade compressors as standard, Intelli-X3 delivers premium audio performance in a robust 1U form factor with a powerful and intuitive front panel user interface.
The system provides all the system management tools necessary for comprehensive alignment and EQ, through to the provision of IIR and custom FIR-based crossovers. I/Os can be selected (in pairs) to be either analogue, AES/EBU or Dante, enabling a mix of audio formats to be used simultaneously.
Designed to be Plug-and-play, the Intelli-X3 integrates into a network via internal 3-way ethernet switches. Both automatic IP (DHCP) and static IP configuration is provided as standard, enabling plug & play connectivity and more rigid IP assignments for use in fixed installations. SNMP support is also provided. Wireless access points can be directly connected to Intelli-X3 devices allowing direct control over a wireless network.
A comprehensive library of factory presets ensures that Intelli-X3 is at home in any application, be it as a stand-alone system controller or crossover configured via the front panel, or as a part of a comprehensive wireless networked system for stadium or arena-sized tours.
An LCD menu enables direct configuration and on-the-fly parameter adjustment in a highly intuitive smartphone-like environment, Intelli-Ware provides control from both portable touch, tablet and tethered PCs. The software is accessible from multiple PC devices simultaneously.
Intelli-Ware provides comprehensive system-wide ganging and copy/paste functionality allowing complex setups to be easily configured, presented and stored. The Intelli-Ware screen layout is fully configurable and can be sized to match any type of display. Full offline design capabilities enable shows to be prepped offsite.
Intelli-Ware also comes complete with an analyser/bridge feature which enables control of all commonly used sound measurement tools found in WaveCapture's Live-Capture and Rational Acoustics' Smaart 7/8, all directly from within the software.
Finally, an optional Dante module provides audio-over-IP networking capability supporting full network redundancy with ultra-low latency. This automatically prevents any audio loss or interruption in the event of a connectivity problem on the primary network.