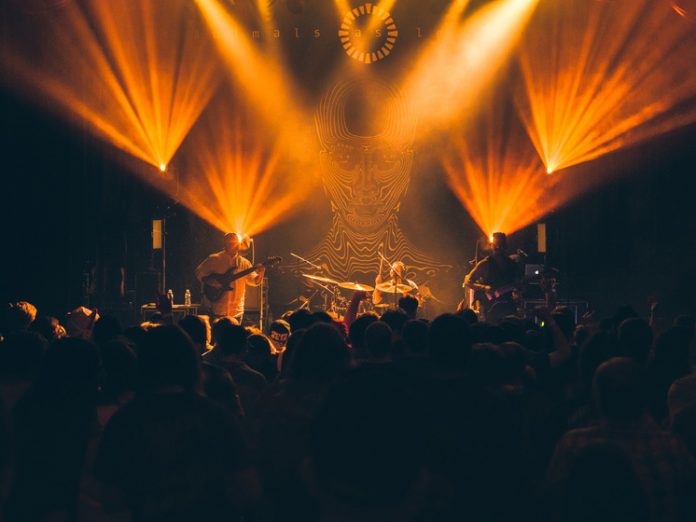 Every LD knows how important it is to keep tour managers happy. So, when the TM for Animals As Leaders said he wanted to minimise the number of fixtures on the floor package for the band's 22 city summer tour while still delivering the multi-dimensional looks that the group's intricate mix of progressive music demands, LD Victor Zeiser took his words to heart.
The owner of Squeek Lights, Zeiser delivered what the manager wanted and then some, with a lean, but abundantly productive rig that includes two strobes, three batten fixtures and four Maverick MK2 Spots from Chauvet Professional. Zeiser fit the whole lighting rig on one pallet that's transported in a bus-towed trailer for the tour, which supports the band's Top Ten Album "The Madness of Many."
"We got very clear instructions from the band's management about what they wanted the rig to look like," said Zeiser. "They were emphatic about keeping the fixture count down, yet they wanted a lot of deep visuals. So what do you do? If you have only four lights, you want them to be bright, have a wide zoom range and give you a ton of colour options. Not a problem for me; I was glad I had the MKs."
Zeiser places two of his Maverick MK2 Spots on flipped up road cases and two on 6-foot booms behind the band. The Mavericks fill a variety of roles from these positions. He uses them often throughout the show to cross light the area behind the band, putting texture on its three members with gobos.
"The quality of the Mavericks' gobos and richness of its colours, helps create a vibey mood on stage," he said. "I also use them to create silhouettes as well as throw some beams around. A thing that sold me on this fixture is its output. I can get a 700 watt arc fixture worth of output – along with a bunch of other arc features – but I don't need the lamps."
Pre-programming his design in his New York City apartment, Zeiser created MIDI cue stacks that are used to trigger the show on the tour. The board operator busks the house rig at each venue to complement Zeiser's time coded show.
"The great thing about Animals as Leaders is the intricacy to their music," said Zeiser. "It really defines easy categorisation. I had to tackle some details of the music that I normally wouldn't focus on. A lot of times I felt more like I was writing cues for jazz than metal. Trying to name cues for songs that have no lyrics was also a treat. Doing this with a rig that didn't have a lot of extra fixtures made it that much more rewarding. I had to think about each light, every feature of that light and how I would use it to support some pretty heady music. The experience has forced me to grow as a designer."