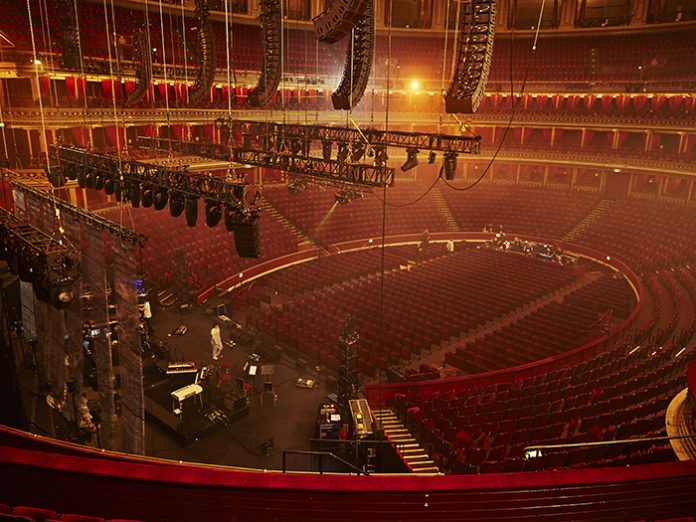 Adam Rhodes, Angus and Julia Stone's Front of House engineer was given the opportunity by Britannia Row Productions to try out the L-acoustics L-ISA Hyperreal Sound technology.
Rhodes felt a certain amount of trepidation, not only knowing little about the system but trying it for the first time, at the notoriously tricky Royal Albert Hall was a daunting prospect.
"I had heard tell of how challenging the RAH can be; with its extended reverb times it can be a struggle to get clarity across the whole venue," explained Rhodes. "But I trust Lez and thought, let's do it, let's find out!"
Before the show, Britannia Row invited Rhodes to spend a day getting to know L-acoustics L-ISA in one of its production suites, where they set up a small mock rig, enabling him to program his Avid S6L console, do a mock set up and play with the system. Rhodes commented on the session: "Even though it was an office suite, getting the patching done and understanding how it all works was great. In hindsight, it was very easy as the entire system is so intuitive if a little time-consuming setting it up for the first time. That time was really valuable and stepping into the Hall itself, I felt very comfortable with what I was about to do. Once that was up and running, it was a breeze."
The L-acoustics L-ISA system, which was also used for the Classic Brits later that same week, comprised 4 arrays of 15 L-acoustics Kara each positioned above the stage as a frontal system, with additional side hangs of 2 arrays of 10 L-acoustics  Kara. 6 L-acoustics X8 and 4 L-acoustics SB18 provided front fill, with a further 6 L-acoustics X8 providing additional fill for the stalls. The entire system was driven by a total of 27 L-acoustics LA12X Amplified Controllers.
This was new ground for Rhodes and he went into the show keeping his own expectations in check. "L-Acoustics' Sylvain Biguet was with me on the day," Rhodes remarks. "As we were a month into a tour and I'd never used L-ISA before, my main goal in the production suite was to have a show that was similar to the one I already had, so that I didn't feel I was going backwards."
"Adam is a great engineer and has a tried and trusted methodology for his mixing," added Biguet. "Our main aim is always to help engineers get the most out of our technology, without becoming intrusive. With just a little help, he was able to experiment with L-ISA and work out how to translate his existing approach to the L-ISA workflow."
Rhodes regularly works with multiple groups and parallel compression, utilizing those groups for multiple streams of drum kits and other instruments to place them in the physical space, working in a similar fashion to how he would with multichannel soundtracks. His main concern about using L-acoustics L-ISA was gain before feedback and being able to get enough gain out of the PA on the vocal, as Angus sings quite quietly.
"With L-ISA, I didn't need to worry. I had way more gain before feedback than I usually do as I was able to bring things forward in the L-ISA Controller interface, literally forward in the soundstage without actually turning up the volume," he smiles. "So I could pull whatever I wanted to the front of the mix and utilise the physical space, which meant it didn't seem louder, just more forward. To me, it felt like in does in Bluegrass, where the vocalists all stand around one mic and someone simply steps up to the mic to perform their solo. That's a game changer and something that I'll always want from this point on. I wish I could do it daily."
Although Rhodes had no reference point for the venue, he didn't find reverb times an issue, experiencing a natural amount of reverb in the room and not feeling like he was fighting the room.
Rhodes concluded: "The whole concept of immersive audio is fun and exciting. We've had massive advancements in lighting technology over the last 10-15 years. It's so good to see a new step forward in audio presentation. I don't listen to a stereo anymore at home, I listen to the surround sound system and now, hopefully, I can do the same thing in my working environment. This is game-changing."