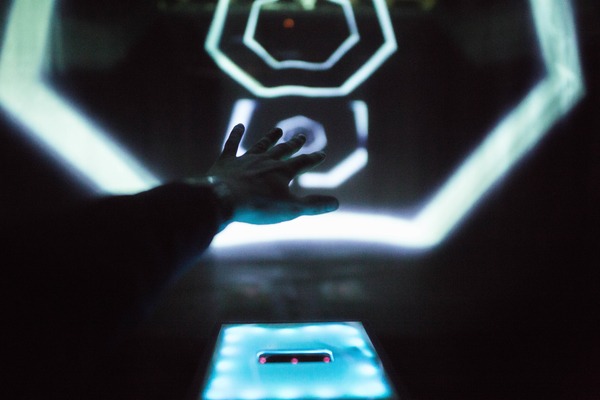 Generative motion graphics agency Stout Studio, which launched in November 2017, debut its experiential installation, An Exercise in Vulnerability; the brainchild of studio founders Lewis Kyle White and Pod Bluman, the interactive installation explored technology's effect on human relationships.
Collaborating with multidisciplinary artist Kate Tiernan, the immersive audio-visual experience shone a spotlight on humans increasing virtual existence, and challenged visitors to be open and vulnerable with a stranger.
Participants were led into darkened room, where they were connected to gestural leap motion sensors, traditionally used in VR, and asked a series of questions. Leveraging Notch generative content technology and surrounding users in a 3D volumetric projection environment, users controlled and influenced both the audio and visuals of the experience – manipulating the images to communicate in a visual language with the stranger on the other side of the room.
The installation was created using Leap Motion technology – a platform developed for the gestural control of VR. Stout Studios developed a process path to generative content software Notch. The data sent from the users movements was then translated to create the interactive visuals. This was then sent back to the screen via a disguise (formerly d3 Technologies) gx media server with very little latency. Generative sound was created using MAX MSP – which triggered electronic synths to create a soundtrack generated by the user data collected. It connected the audio and visuals, and married the tangible field of interactivity.
An Exercise in Vulnerability was deliberately more psychological in its nature – it does mark the introduction of disruptive motion graphics technology to brand and experiential events. Having already made its mark on the live music industry, generative content can be seen on some of worlds biggest tours, favoUred by artists including Beyoncé, The Red Hot Chili Peppers and U2.
"Real time generated content allows for pure interaction. It puts users at the heart of the event. Previous technologies involve pre-visualising and rendering content that you would effectively press play and run," stated Lewis Kyle White. "Stout Studio provides brands and experiential agencies the expertise to create unique visual identities and experiences, for multitude of targeted audiences."
Bluman concluded: "We have worked with many high profile brands on experiential activations – many are looking for a level of interactivity that has not yet been possible. This new technology really opens the doors to infinite possibilities for truly responsive content and immersive experiences."