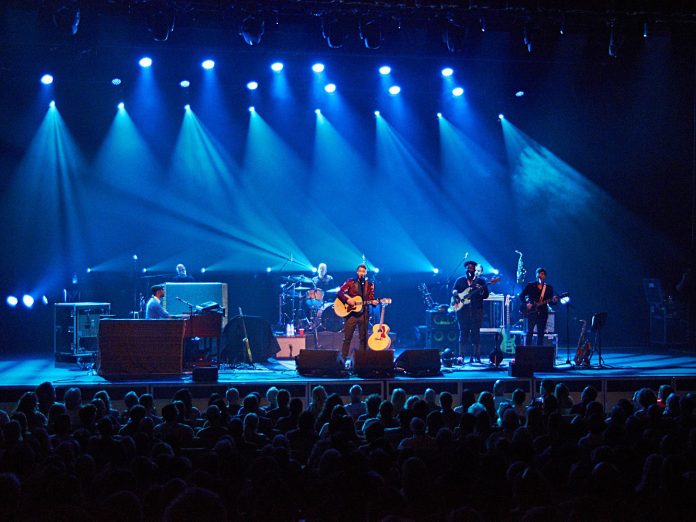 Acclaimed singer songwriter Amos Lee has returned to the road for the second leg of his winter tour, bringing his acoustic blues sound from his sixth studio album, Spirit, to audiences across the country with a lighting package provided by Bandit Lites.
"This isn't about the light show, it's about the music," noted Lighting Designer Daniel Rehbein adding, "The lighting is there to enhance the experience, not distract from it."
To bring about that enrichment, Rehbein utilised a mixture of GLP X4 Bars downstage for band and crowd wash along with more across the ground behind the band for a dynamic 'God light' effect.
Bandit also supplied GLP Spot Ones and GLP X4S fixtures on the floor to light the band, while Martin MAC Auras are placed upstage for wash looks. Additional Spot Ones are also used both in the air and on cases on the floor. A Grand MA 2 Lite proves control.
"The whole show is punted," said Rehbein. "There are macros to fire starting points for most of the songs, but the show is always changing; that makes it a lot of fun."
"This is a very organised production," shared Bandit's Client Representative Shawn Lear. "Working with Drew Consalvo has been a textbook example of an exemplary and professional Production Manager. We are thrilled to be able to be one part of this well-organised tour."
Just like Amos Lee's laid back tunes and mellow sounds, Rehbein shared the lighting has been smooth sailing so far, sharing Bandit's on the road support has been valuable.
"If I've needed something, it has been shipped to me and I've received it the very next show right when I needed it."