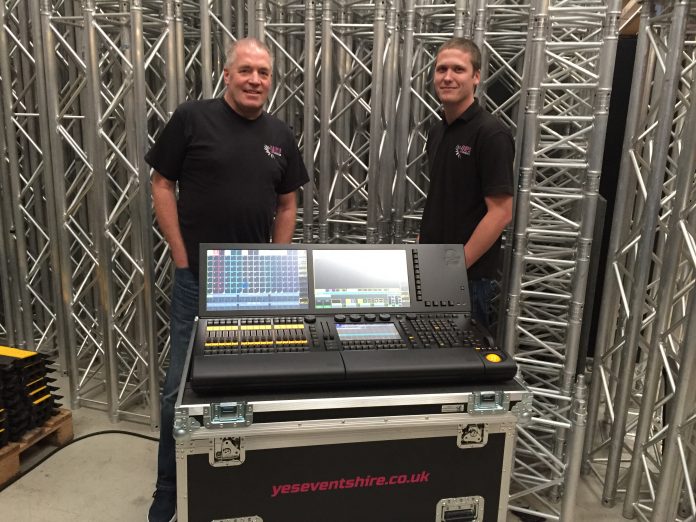 The Yes Events team has invested in a new grandMA2 Light console and an MA Command Wing control console, which were purchased from Ambersphere Solutions. Yes Events is an events production company that manage all aspects of a production: developing initial concepts through to staging, crewing, tech management and execution of the events.
Tom Chennells, Director of Production for Yes Events, explained why they chose the MA kit: "The Command Wing and grandMA2 Light are our first investments in MA Lighting control. Both were chosen after a rigorous selection process, informed both by our knowledge of the industry and our predicted demand for these high-quality, industry standard consoles. We work with some of the industry's best known and most talented lighting designers and their preference for MA equipment also strongly influences our buying decisions.'
'Both the Command Wing and grandMA2 Light offer a greater ease of use and functionality than other lighting desks we work with. Our lighting designers are delighted with both the quality and features of the new desks."
Thor André of Ambersphere Sales was the contact with Yes Events. Chennell explained: "Thor came to visit us and right from our initial enquiry to delivery of the desks we have felt that we were dealing with people who really knew their stuff and the after-sales service has proved to be just as good. Ambersphere, and Thor in particular, have been fantastic.'
'He's also invited us to take part in an MA training session, our lighting team are already familiar with MA desks but we hope the training will be really helpful in revealing previously unknown facets of these great pieces of kit."
In response to this endorsement, André had this to say: "The combination of the grandMA2 Light and the Command Wing gives them a flexible system; the Command Wing can operate as a backup system for the Light, or they can both go out as individual systems, giving them the perfect solution to fit every budget."
The Yes Events team already have plans for their new MA purchases: the Command Wing is due to go out at Christmas to do a couple of light installations. The grandMA2 Light will also be making its presence felt at various big productions over the festive season, starting with Christmas light switch-ons in town centres across the south of England.