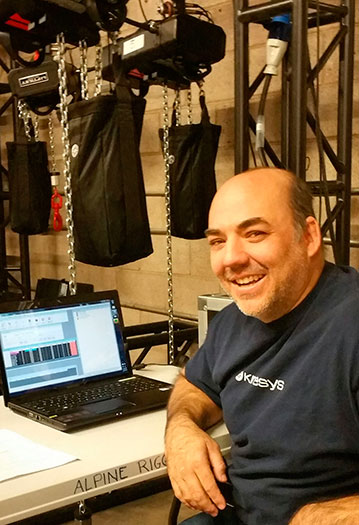 Las Vegas based Alpine Rigging, headed by Brent Armstrong, has made a substantial new investment in Kinesys automation equipment, with the purchase of eight variable speed chain hoists fitted with Kinesys Elevation 1+ drives, Kinesys Vector Software and eight Kinesys LibraCELL load measuring shackles, all delivered via the manufacturer's U.S. office in Atlanta.
Brent founded Alpine Rigging in 2011 and has been working out of the frenetic entertainment industry hub of Las Vegas since 2005. He's previously worked as a freelance rigger and automation specialist in Europe, Asia and other parts of the world, as well as extensively throughout North America.
Las Vegas was already replete with several major and well respected lighting, rigging and AV rental companies, so with Alpine Rigging, Brent wanted to offer something altogether different. He decided his unique selling point would be to concentrate on niche markets within the world of entertainment and production rigging, and in particular, the specialist discipline of "fancy and funky widgets".
"Kinesys" he stated, "falls right into this category!" Apart from thinking laterally and nimbly about how to successfully position his business, Brent is also lucky enough to be able to consider his capital investments as decisions that are interesting, fun, and that make him happy. "Variable speed hoists are a niche product that really appealed to me in terms of the effects that can be achieved using them with a bit of knowledge, skill and imagination," he confirmed and with no other companies specifically focusing on these products, he embarked on the venture with Kinesys.
Being in Las Vegas, a city visited by most major tours, he'd noticed 'Kinesys' appearing increasingly on more and more riders featuring moving elements. He first encountered Kinesys equipment around eight years ago, and between then and making the purchase at the end of 2015, has worked with it on many times on shows, events and tours, all of which enabled him to thoroughly check out the kit and the company. Brent's 'Where's the Gremlin?' tests as he calls them involved exhaustive conversations with various vendors across the country, as well as close friends and colleagues such as Neil Montour, now head of automation at Atlanta Rigging Services, who worked as Brent's automation programmer for several years.
"I was really interested in the people and the philosophies driving Kinesys" he explained. "I always wanted to partner with a strong and respected brand in this business and develop a proper, long-term, ongoing relationship, and committing to Kinesys has given me that opportunity. It's as much about the people and the way they think as it is about the hardware for me!"