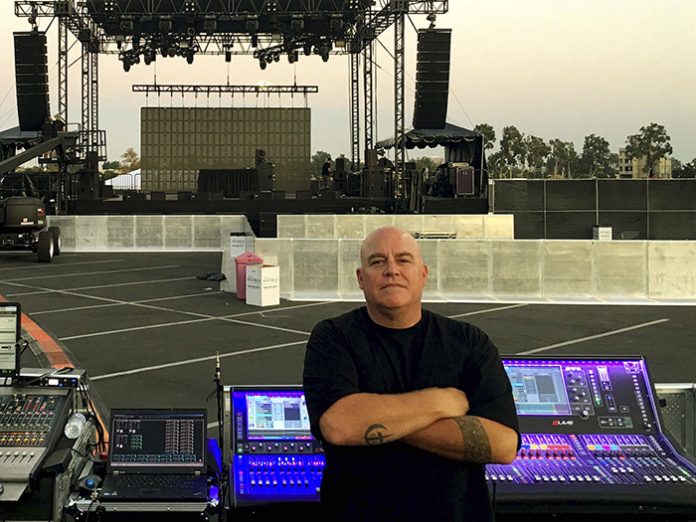 Porsche has held a live concert at the Porsche Experience Centre in Carson, CA mixed on an Allen & Heath dLive S Class with S7000 Surface, DM64 MixRack and DX32 Expander. The concert featured Dave Navarro, Mark McGrath and other rockers performing as The Royal Machines, and was co-sponsored by Rolling Stone.
Shawn London mixed FOH for the concert with sound and lighting systems provided by Los Angeles based Harmony Event Productions. London noted: "For the Porsche event, they needed feeds for FOH but also for a video recording and cues for a lighting director, and an overall production director. And, they wanted to do 2 simultaneous multitrack recordings. So, they had originally proposed a different digital mixer but I told them we needed a dLive to provide all of those feeds and coordinate all those mixes."
"The production spaces were 350 feet from the mix booth," London said. "So we fed everything over the network from Dante cards in the S7000 and DM64." He used the DX32 to send and receive channels to the video production area allowing time-code to be added to the multitrack recordings. "That's the great thing about the dLive," said London. "You can send audio all over the place and still have plenty of feeds left over. You can't surpass that workflow with any other mixer."
London used the dLive's stereo delays, its doublers and its Symphonic Chorus for vocals and its Hyperbass for drums and bass. "I used the Transient Controller for snare and rack toms," he added. "But, the Dyn8 multi-band compressor is my favourite. There are 64 of these on the dLive and you can put them anywhere with no latency. I never use external effects any more. The dLive with its DEEP Processing is everything you need as an engineer." London set up dLive scenes to coordinate these effects for different songs and managed the concert's 40+ sources using dLive Layers.
"The sound was amazing," London concluded. "And the great thing about the dLive is you don't have to push it to sound this great. We gave this audience a huge rock and roll performance with the feel of a big venue!"