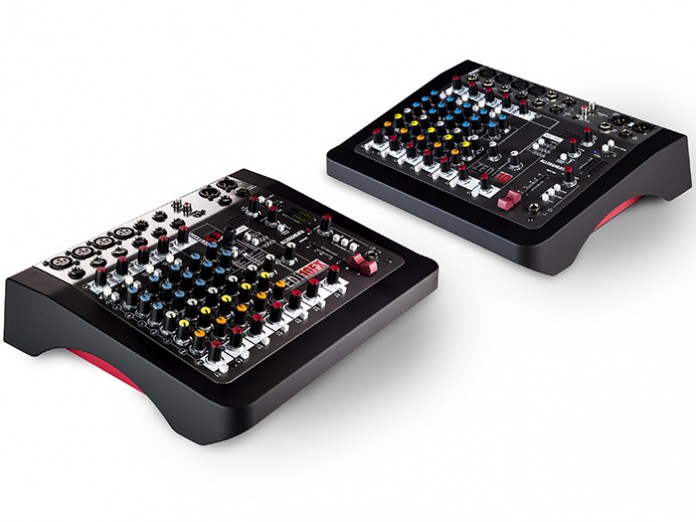 Allen & Heath has launched five new mini mixers from its acclaimed ZED analogue console range, including the first ZEDi hybrid mixers / interfaces. The ZED-6, ZED-6FX, ZEDi-8, ZEDi-10 and ZEDi-10FX are designed with all the features and quality required by musicians, recording artists and for AV work, in a compact, portable format.
"The new ZED models deliver Allen & Heath's renowned build and audio excellence in a small format, making it the ideal choice for quality conscious musicians, singer / songwriters and venues. Whether it's bouncing ideas around at home, performing live or recording tracks to share on YouTube and Soundcloud, they are versatile companions for every step of the creative journey," commented Allen & Heath Product Specialist, Harry Garcia.
The new models feature two (ZED-6, ZED-6FX, ZEDi-8) or four (ZEDi-10 and ZEDi-10FX) mono channels with separate XLR and TRS jack sockets and two stereo channels. The mono channels include DI high impedance circuitry for the jack sockets, allowing guitars to be plugged straight into the mixer without the hassle and expense of carrying separate DI boxes.
Additionally, the ZED-6FX and ZEDi-10FX mixers include an in-house designed FX system which encompasses multi-FX models, combining reverbs, delays, doublers, chorusing, and other modulators to create a dynamic and varied suite of studio quality sound effects.
The ZEDi models combine a compact mixer with a 24bit 96kHz two by two (ZEDi-8) and four by four (ZEDi-10 and ZEDi-10FX) USB interface, providing recording and playback to a Mac or PC or to an iOS device (using a Camera Connection Kit), with flexible source routing options. ZEDi models are bundled with Cubase LE music production software and the Cubasis LE mobile music production app.
The new mixers provide optimal sound quality due to the new GSPre preamp design, developed from the GS-R24 professional studio console, which provides exceptionally low noise and massive headroom.
Styled in attractive moulded chassis and metal front panel, all the new ZED models also feature two-band EQ (ZED-6, ZED-6FX, ZEDi-8) and three-band EQ (ZEDi10 and ZEDi-10FX), 60mm smooth travel master mix faders, channel monitoring and 48V phantom power. Unique in this type of product is the individual channel PCB construction with nutted pots and a robust internal, universal voltage power supply for extended life in the toughest environments.
"These three new ZED mixers combine high-end pro audio design with a compact styled case to give ultimate performance with just the right features you need. The exceptional preamp design, handy guitar DIs, the ZED-FX version's simply astounding FX algorithms, the ZEDi's powerful USB interface, and the internal PSU, are stand out features which offer so much more than the average mixer in this area," concluded Allen & Heath's R&D Designer, Mike Griffin.