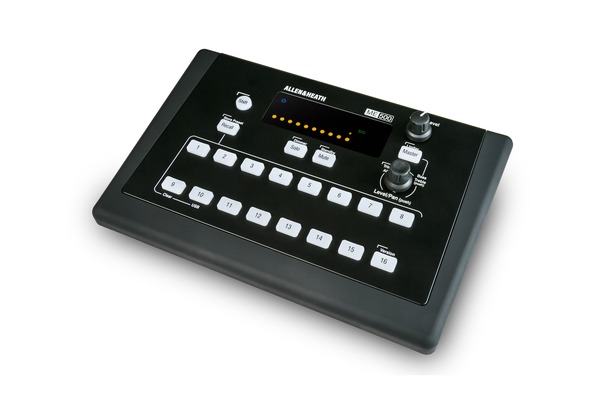 Allen & Heath has added the 16 channel ME-500 personal mixer to its ME personal mixing system.
ME-500 is designed as an accessible personal monitoring solution for houses of worship, rental companies and orchestras, allowing musicians to quickly and independently build and control their own monitor mixes from 16 stereo or mono sources. The new mixer inherits the same compact format as its sibling, the 40 channel ME-1, including simplified setup and controls. The ME system is plug 'n' play compatible, and with Allen & Heath's digital mixer range can be used with third party digital consoles via the ME-U hub.
The Allen & Heath ME-500 features 16 backlit select keys, mute and solo buttons, master level with limiter and EQ, plus a single rotary encoder for all main navigation and control. Each Allen & Heath ME-500 can store and recall 8 user presets for different mixes, users and shows, all of which can be saved to USB. Outputs include mini-jack and headphones, and a TRS mono out for wedge monitors. There is no limit to the number of Allen & Heath ME-500 and ME-1 personal mixers that can be added to a system. Secure EtherCon connectors allow Allen & Heath ME-500s to be daisy-chained, or deployed in a star topology using the ME-U or an off-the-shelf PoE switch.
Allen & Heath's Live Sound Product Manager, Ben Morgan commented: "We're seeing a big rise in personal mixing as venues and tours battle to keep sounds levels on stage under control and try to make the most effective use of precious sound check time. Our established ME-1 personal mixers are superb for environments where there's the time and expertise to craft the perfect mix of up to 40 sources for each performer, but many customers have been asking for a more accessible alternative that volunteers and first-time users can get great results with quickly and easily. That's exactly what we set out to create with ME-500."