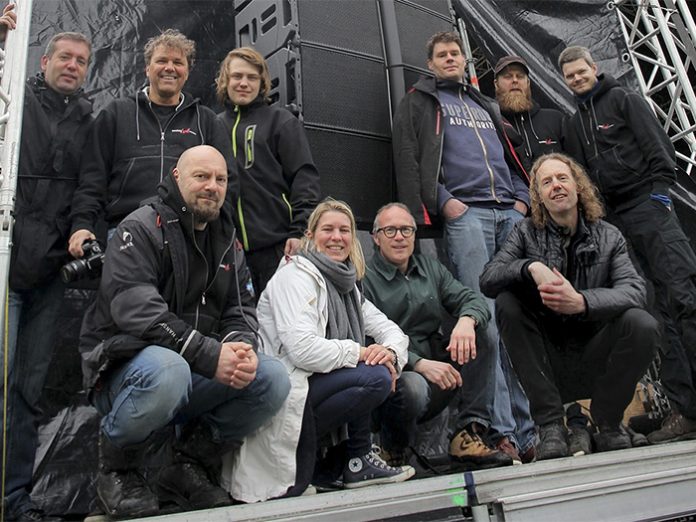 Pre-launched in 2015, Alcons Audio's LR28 larger format pro-ribbon line array delivers the highest possible sound quality, with exceptionally high SPL capabilities and throw, making it the ideal solution for audio rental companies who service festivals throughout the summer season. The first to invest in the system was Trondheim Lyd AS and, after two summers of using it, the company could not be happier.
"In 2015 we needed a new system, because one of our customers wanted to start using a new outside amphitheatre," said Hege Strand-Nustad, Trondheim Lyd CEO. "We also needed a system that had a longer throw than the others available. Our technicians went out and listened to several products, but when they heard the Alcons LR28 they came back and said 'We can stop looking, this is the one!'."
With fully-predictable linear response behaviour, perfect intelligibility and identical tonal balance at any volume, the Alcons pro-ribbon technology in the LR28 delivers a super-fast impulse response, with up to 90% less distortion, and a flat frequency response beyond 20kHz. A true HF peak power handling of 3000W and RMS-to-peak ratio of 1:15 means it excels in intelligibility and throw, with maximum dynamic headroom reserve.
The mid-frequency features four high-efficiency 6.5" transducers in a slot-loaded configuration, with the low frequency section comprising reflex-loaded, custom 14" woofers with reinforced cones and large voice-coils. Both feature a Neodymium motor-structure for improved heat dissipation, reducing power compression.
"We did A/B tests with several brands and setups. The Alcons LR28 was consistently superior in both sound quality and throw," added the company's Arnstein Fossvik. "The chosen system also had to be very reliable, rugged and withstand the Norwegian climate, as well as being easy to predict, rig and optimise. As the LR28 was a brand-new system, there was a lot of discussion at Trondheim Lyd but in-depth research and discussions with Alcons reassured everyone at the company that it was the right solution."
As well as the qualities of the LR28 loudspeakers, the power and control by Alcons Sentinel10 amplified loudspeaker controller provides LR28-specific drive processing with array-compensation, filter-presets, system EQ, phase-matching and other features. The Signal Integrity Sensing pre-wiring of the LF and MF sections ensures dynamic cable/connector compensation between the LR28 and Sentinel, resulting in fast and tight mid and bass response, while reducing distortion even further. The system damping factor of 10,000 is maintained, regardless of cable length, gauge or system impedance.
The system arrived at Trondheim Lyd in June 2015 and was immediately put to work on a number of shows which included performances by Roxette, Mike and the Mechanics, The Waterboys, Susanne Vega and the Dum Dum Boys. It was an immediate hit with engineers. "After the first show, our engineers said it was like sitting in a studio with very good studio monitors… except there is a 10,000-strong audience with you and it is significantly louder!" said Strand-Nustad. "We were genuinely proud of being the first rental company in the world to own a system that clearly set a new standard for PAs."
Since then, Trondheim Lyd's LR28 has been used on an array of major Norwegian festivals and indoor shows. These have included the Pstereo, Olavsfestdagene, Tahiti and Sverresborg festivals and gigs by Status Quo, 10CC, Stratovarius, singer-songwriter Susanne Sundfør, indie rockers Bob Hund, DJ Tiesto and heavy metal band Sabaton.
"Investing in the LR28 was a very good decision. After 18 months of using it, we've only had positive feedback from sound engineers, artist management and audiences. As the system is very directional, we have also received a very good response from neighbours living close to festivals and arenas," said Fossvik. "Engineers have been particularly curious about the technology behind it. Espen Husby, a high profile Norwegian sound engineer, has said that he can hear and do things with the LR28 that he can't do with conventional systems."
"Trondheim Concerts, the biggest concert promoter in the middle of Norway, is a big fan of the LR28. It means they don't need delay towers, which impact on the view for the audience. At their most used outdoor venue, the Sverresborg Arena, it means several thousand people have a better view of the stage, instead of having to stand behind delay towers," adds Trondheim Lyd project manager and sound engineer Espen Hammer.
Fossvik continued, "As a PA system designer, it is always fun to try something new and I'm thankful to work at a company that trusts us workers and is willing to take the chance to be first in the world to try a new, large format system – and to have the chance of working together with the manufacturer for its future development – is a system designer's dream. Especially when it's such an extremely good one!"
Giving his thoughts on Trondheim Lyd investment was Tom Back, Managing Director of Alcons Audio: "Needless to say we're very proud to have TrondheimLyd on board the Alcons family; But even more, we have highest respect for them, taking this giant leap to step into a brand new system and new technology. In a market that seems to be dominated by "rider-friendlyness", only few people let their ears do the talking; It's our belief those are the true leaders that are advancing the art of sound reinforcement. The feedback we get from the LR28 and LR18 systems is nothing less than phenomenal, proving our transducer technology works in even the largest rental and touring applications, without any failure."