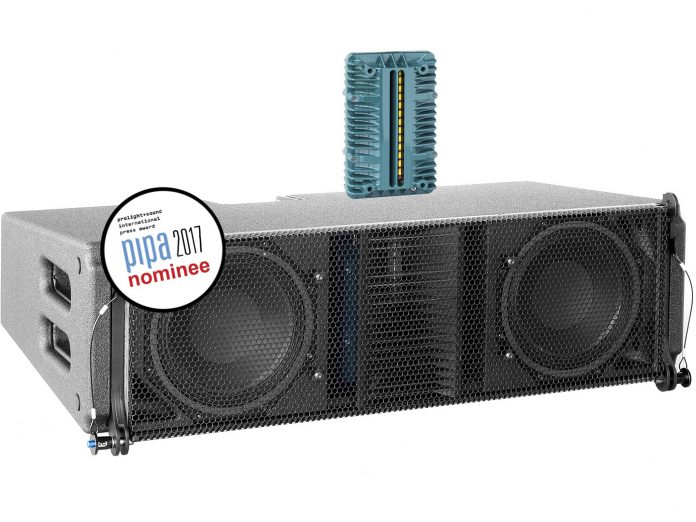 The technical and audio excellence of Alcons Audio's LR18 mid-sized line array has been recognised by a nomination in the Concert Sound category of the annual Prolight+Sound International Press Awards (PIPAs).
Taking place alongside the 19th Musikmesse International Press Awards (MIPAs), the PIPAs is now in its fourth year, with over 100 specialist magazine journalists from across the world nominating and voting for the best audio equipment of 2016/17.
The Alcons LR18 three-way compact/mid-sized format line-source system combines Hi-Fi quality sound with very high SPL capabilities and throw.
Designed for medium to larger applications, the LR18's RBN702rs seven-inch, pro-ribbon HF section has 1500w power handling, an RMS-to-peak ratio of 1:15 and super-fast impulse response to deliver up to 90% less distortion than conventional systems, with maximum dynamic headroom reserve.
The LR18 also features a high-efficiency, 6.5" midrange transducer and two extended excursion, reflex-loaded eight inch woofers which surpass the output of larger drivers, while maintaining an unobtrusive face print. It is driven by the Alcons Sentinel Amplified Loudspeaker Controller, optimising the system's response by LR18-specific drive processing and feedback for each array configuration.
"The PIPAs are genuinely important industry awards, because products are nominated by publications from across the globe," Alcons co-founder Tom Back said. "We are very pleased that the LR18 has been nominated, recognising that the product makes a real different to the audience experience at medium to larger-sized events."
Visitors to Alcons stand B50 in Hall 3.1 at Frankfurt Messe will be able to register for an off-site demonstration of the LR18 and other Alcons products on Wednesday 5th April, while the stand itself will feature a selection of the company's point source, point source array, line source column and line array solutions.
The PIPA Winners will be announced at a special ceremony and party held during Musikmesse/ProLight + Sound 2017 on Thursday, 6th April.
Prolight+Sound takes place at Frankfurt Messe from 4th – 7th April 2017.