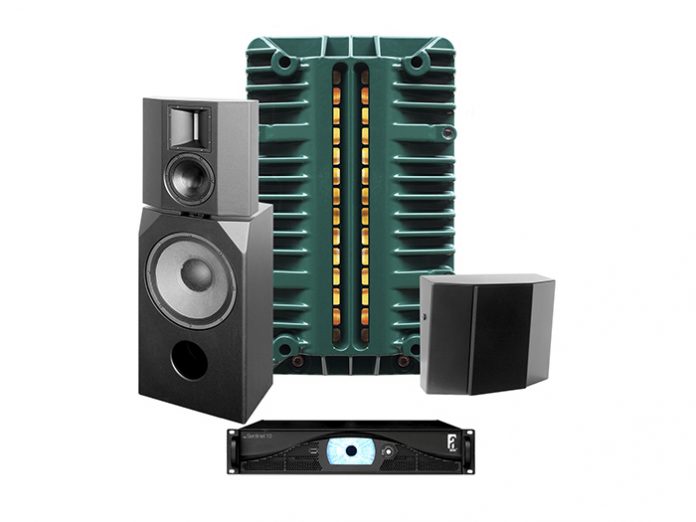 ISE 2017 sees Alcons Audio return to its home show both as a an official ISE Technology Partner and with an expanded Alcons Pro-Ribbon Immersive Experience.
The Pro-Ribbon Immersive Experience was one of the highlights of ISE 2016 and returns this year in expanded form, having also enjoyed critical acclaim at the CEDIA home technology exhibition in Dallas last year. Taking place in an acoustically-optimised demo room on Alcons stand 6H148 in Hall 6, the company will be demonstrating systems for both the home theatre and professional installation markets.
The home theatre demos are taking place in co-operation with Barco, DreamScreen and Trinnov. These allow visitors to experience Alcons ability to deliver Hi-Fi sound at concert sound pressure levels in any size application, complete with high resolution laser projection.
For the professional installation and rental market, Alcons will be hosting seminars with Astro Spatial Audio (ASA), exploring and demonstrating the in-depth immersive surround sound for live events. The Alcons system will be working with ASA's SARA II Premium Rendering Engine, which harnesses patented Spatial Sound Wave (SSW) technology to deliver scalable and easy to use object-based 3D audio for a wide range of applications.
The audio system will be a hybrid 9.X.8 immersive surround configuration, comprising three Alcons Cinema Reference Monitor Systems CRMS mkII (three-way, 15inch LF, 8inch MF and 4inch pro-ribbon HF) as L-C-R screen channels, plus 14 CRMSC-SR systems (6,5inch LF and 2inch pro-ribbon HF) for base, height and top layer surrounds. Four ultra-slim 15inch CB151 subwoofers will be used as LF extension. This set-up is designed to reproduce native and upmixed Dolby Atmos, Auro-3D and DTS:X content, as well as Astro 3D Spatial Audio material.
The system will be driven by 24 channels of Sentinel amplified loudspeaker controllers, with lossless digital feed of an AES3 96kHz signal by a Trinnov Altitude 32 processor. This also connects the media player with a Barco laser phosphor projector with native DLP chip set and up to 12.000 lumens output, projecting on a 2.35:1-formatted DreamScreen ultra-HD high-gain screen.
Alcons is an official ISE Technology Partner, with systems in the Residential Solutions Theatre and the Audio Solutions Theatre. The systems will also be used at the InAVate Awards ceremony on Tuesday evening.
ISE 2017 takes place at the Amsterdam RAI from 7th-10th February 2017, with Alcons Audio exhibiting on stand 6-H148, Hall 6.